Men's ice hockey scores six goals, rolls to victory
---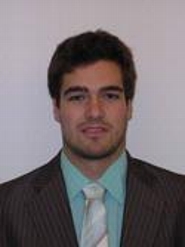 Anthony Scarpino '12 scored two goals and Calvin Bartel '13 made 47 saves to lead Hamilton College to a 6-2 win against the University of Massachusetts-Boston in a NESCAC/ECAC crossover game at Hamilton's Russell Sage Rink on Feb. 19.

Hamilton (13-8-2 overall, 10-7-1 NESCAC) will enjoy its first winning season since 2003-04. The Continentals are locked into the sixth seed for the NESCAC championships, and will travel to an opponent yet to be determined for a quarterfinal game on Saturday, Feb. 27.

Scarpino added an assist for a three-point evening. Bartel was in goal for the first time since he was removed with an injury after the first period at Colby College on Feb. 5. He raised his save percentage to .910 and lowered his goals against average to 2.77. Anthony Ruberto '13 chipped in one goal and two assists, and Andrew Jelinek '13 added one goal and one assist for Hamilton.

UMass-Boston (10-12-1, 6-11-1 ECAC East) grabbed a 1-0 lead just 1:16 into the first period. The play started with a shot that was saved by Bartel. The rebound found its way to one of the Beacons, whose first shot was also stopped. His second shot from the left post evaded Bartel.

The Continentals scored the next four goals to seize control. Ruberto started the run with his fourth this season just 44 seconds after the UMass-Boston goal. Joe Buicko '11 gave Hamilton a 2-1 lead with his 10th goal as the Continentals skated on the power play at 11:15. Chris Lorenc '10 and Andrew White '13 were credited with assists. Hamilton ended up 3-for-6 on the power play, while the Beacons were 1-for-6.

Scarpino made the score 3-1 on another power-play tally at 2:42 of the second. Bryan Kelly '12 and Joe Houk '13 tallied assists. Scarpino made it three straight power-play goals with 4:22 left in the period when he scored his 12th this season off assists from Ruberto and Brandon Broad '12. UMass-Boston pulled within 4-2 with 2:12 remaining in the second.

The Continentals clinched the win with two goals late in the third period. Jelinek scored his fifth of the year off assists from BJ Lalonde '12 and Ruberto with 4:41 remaining. Steve Bury '12 added an empty-net goal with 4:07 left. Harry Biggs '10 and Steven Lucchetti '12 earned the assists. Hamilton leads the all-time series, 15-3-0.
The Continentals host Babson College in the regular-season finale on Saturday, Feb. 20.