Men's ice hockey settles for tie with Morrisville State
---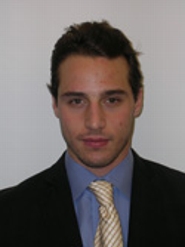 Morrisville State College's Anthony Scornaienchi '16 scored an unassisted goal with 3.4 seconds remaining in the third period to salvage a 3-3 tie with Hamilton College in a non-conference game at Hamilton's Russell Sage Rink on Nov. 27.

Anthony Ruberto '13 netted his second goal in as many games and added an assist for the hosts. Dom Jancaterino '14 and Peter Michailidis '16 each scored their first goal in a Hamilton uniform. Drew Jelinek '13, Brian Infante '13, Mike DiMare '14 and Kenny Matheson '16 all earned one assist. Joe Quattrocchi '14 recorded a season-high 31 saves.

Mike Dolman '14 notched his team-leading fourth goal and tacked on one assist. Jamie Nelson '14 contributed one goal and Ryan Marcuz '14 and James Jarvis '16 each picked up one assist. Jakob Rasmussen '16 stopped 26 shots.

Scornaienchi's goal came on the heels of a two-man advantage. Already on the power play, the Mustangs elected to pull Rasmussen with 1 minute, 4 seconds to play. The power play ended with 33 seconds to go, but with an extra attacker, Scornaienchi was able to secure the loose puck and score on a scramble in front of the crease.

Hamilton (0-3-1 overall) took a 1-0 lead 4:02 into the first period and led for much of it. Ruberto sent home a rebound in front of the goal and Jelinek and Infante earned assists on the play.

Morrisville (0-10-1) attempted to tie the score with 9:17 remaining in the first, but Quattrocchi came up with a big glove save on a breakaway. Ruberto later thought he had scored his second goal of the night after he fired home his own rebound. But the goal was waved off because the net was jarred loose before Ruberto's second shot.

The Mustangs eventually tied the score on a power-play goal with 48 seconds remaining in the first. Dolman collected the puck after an initial shot was blocked and fired a slap shot from point-blank range for the equalizer.

Neither team added to the scoreboard in the second period, but both had opportunities late in the frame. Hamilton's Scott Vazquez '16 hit the post from outside the left faceoff circle with less than three minutes to go, and Quattrocchi made another nice glove save after the Mustangs won a face off with just 6.9 seconds left.

Hamilton tacked on two goals early in the third period to take a 3-1 lead. Michailidis received a pass from DiMare in front of the net and his diving shot found the back of the net at 3:07. Jancaterino scored his first goal of the season 2:30 later when he redirected Ruberto's backhander from the left faceoff circle.

Morrisville made it 3-2 with 5:02 remaining. Nelson picked up a loose puck and deposited it into the back of the net after Quattrocchi stopped two attempts by Dolman. The Mustangs outshot the Continentals 34-29 and were 1-for-4 on the power play. Hamilton was held scoreless on seven opportunities.

Hamilton returns to NESCAC play at Trinity College on Friday, Nov. 30. Morrisville hosts SUNY Brockport on Friday.