Men's ice hockey shuts out No. 8 Middlebury
---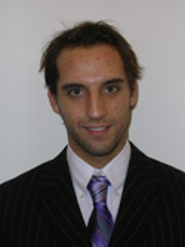 Joe Quattrocchi '14 stopped all 31 shots he faced to lead Hamilton College to a 3-0 upset over nationally ranked No. 8 Middlebury College in a NESCAC game at Hamilton's Russell Sage Rink on Dec. 9.

It was the first career shutout for Quattrocchi. Sam Choate '12 tallied the second goal of his Hamilton career. Anthony Scarpino '12 scored a goal for his 50th career point, and Anthony Ruberto '13 scored the Continentals' third goal. Phil DiDonato '13 recorded the first two assists of his career. Andrew White '13 picked up two assists, and BJ Lalonde '12 added one.

Middlebury was 8-0-1 in its last nine games against Hamilton. The Continentals last defeated the Panthers on Feb. 5, 2005, and the last time they shut out the Panthers was during the 1938-39 season.

Hamilton (3-3-1 overall, 1-3-0 NESCAC) had a good opportunity to take the lead with a 2-on-1 chance at 6:56 of the first period, but a save from John Yanchek '12 ensured the game would remain scoreless through the first intermission. Yanchek finished the game with 33 saves for the Panthers.

Middlebury (4-2-1, 4-1-0) had a good chance to score following two Hamilton penalties in 1 minute, 7 seconds early in the second period, but the Continentals were able to kill both to keep the game scoreless.

After a five-minute major penalty against Middlebury at 6:28 of the period, the Continentals got on the board with a power-play goal at 10:57. White played the puck from behind the Panthers' net to Lalonde at the point for a slap shot that Choate redirected past Yanchek.

Hamilton doubled its lead with 4:17 left in the period when Scarpino netted a short-handed goal. DiDonato picked up a loose puck on the left side of center ice and fed a pass to Scarpino, who carried across the blue line and fired a wrist shot from above the right circle that sailed into the top left corner of the net. The Continentals led 2-0 at the second intermission.

The Panthers had another 5-on-3 advantage following two Hamilton penalties within 42 seconds midway through the third period, but the Continentals successfully killed both and maintained their 2-0 lead. A shot by Middlebury's Martin Drolet '12 that would have cut the Panthers' deficit in half banged off the crossbar with about 11 minutes to play.

Ruberto closed the scoring for Hamilton with 5:07 remaining when he took a feed up the left side from White, skated past a Middlebury defender, and beat Yanchek. DiDonato was also credited with an assist on the play.

The Continentals held a 36-31 shot advantage, and were 1-for-4 on the power play. The Panthers were 0-for-8.

Hamilton hosts nationally ranked No. 12 Williams College for a NESCAC game on Saturday, Dec. 10, at 3 p.m.