Men's ice hockey skates to tie at Wesleyan
---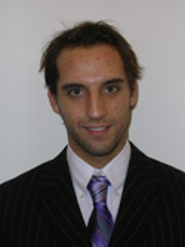 Marko Brelih '16 scored with 54 seconds left in the third period and Hamilton College and Wesleyan University skated to a 1-1 tie in a NESCAC game at Wesleyan's Spurrier-Snyder Rink on Dec. 1.

Brelih, who had the overtime game-winner in Friday night's 2-1 victory at Trinity, netted his second goal in as many games. Joe Quattrocchi '14 made 32 stops and raised his save percentage to .961 in four conference games. The Continentals (1-3-2 overall, 1-2-1 NESCAC) went to overtime for the third straight game and ended a four-game losing streak against the Cardinals.

Nick Craven '13 scored in his fourth consecutive game for Wesleyan (3-3-1, 1-2-1). Donald Kleckner '13 and Tommy Hartnett '14 earned the assists, and Glenn Stowell '13 made 22 saves.

Neither team scored until the third period. Craven gave Wesleyan a 1-0 lead at the 10:11 mark when the Cardinals had a two-man advantage. Craven received a cross-crease pass and snapped a high shot into the net past Quattrocchi for his team-leading sixth goal.

With just under a minute left in the third, Brelih's shot from the slot beat Stowell on the glove side. In overtime, Wesleyan got off four shots and Hamilton took three. Stowell made a brilliant stop of a point-blank tip-in attempt with 1:09 left to preserve the tie.

Five of Hamilton's six games have been decided by one goal or ended in a tie. Wesleyan held a 33-23 shot advantage, and converted 1 of 4 power-play opportunities. Hamilton was unsuccessful on seven tries.

The Continentals hit the road again next weekend for another NESCAC game at Middlebury College on Friday, Dec. 7. The Cardinals travel to Wentworth Institute of Technology for a non-conference game on Thursday, Dec. 6.