Men's ice hockey skates to tie with Conn. College
---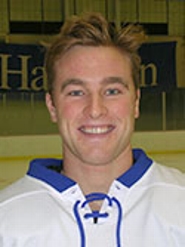 Hamilton College's Dom Jancaterino '14 scored with 6.4 seconds left in the third period and the Continentals skated to a 2-2 tie with Connecticut College in a NESCAC game at Hamilton's Russell Sage Rink on Jan. 11.

Mike DiMare '14 added one goal and one assist for the Continentals. Marko Brelih '16, Peter Michailidis '16 and Tyler Lovejoy '16 recorded one assist apiece. Brelih has a team-best seven assists and is tied for the team lead with 10 points. Joe Quattrocchi '14 made 23 saves in 63 minutes, 36 seconds of play. Quattrocchi has a .915 save percentage and 2.42 goals against average in NESCAC games.

Tim DiPretoro '16 and Dawson Luke '13 posted one goal each for the Camels. Keith Veronesi '14, JC Cangelosi '15, Sebastian Meltzer '16 and Mike Sinsigalli '14 all chipped in with one assist. Mike Petchonka '14 turned away 28 shots.

Jancaterino's goal came with the help of an extra skater as Hamilton elected to pull Quattrocchi with 1:31 left in the third period. Brelih's initial shot was blocked and DiMare ended up with the puck. DiMare found Jancaterino open near the left side of the crease for the equalizer.

Conn. College (3-6-2 overall, 1-4-2 NESCAC) struck first 6:37 into the first period with DiPretoro's goal. Cangelosi found Veronesi behind the net and he sent the puck to DiPretoro in front for the score.

The Continentals (3-6-3, 2-5-2) attempted to tie the score later in the period when DiMare took two shots from just outside the crease. But Petchonka turned both away to keep the lead intact.

The Camels made it 2-0 with 2:16 remaining in the first. Luke scored his team-high sixth goal of the year, while Meltzer and Sinsigalli were credited with assists.

Hamilton finally got one goal back with 3:27 left in the second period. DiMare skated up with the puck along the right boards and had a give-and-go with Michailidis that resulted in a goal. Lovejoy also earned an assist on the play.

In overtime, Quattrocchi came up big with five saves, including two in the final 7.6 seconds. Petchonka made two stops in the extra session.

The Continentals held a slight edge in shots at 30-25. Neither team had many power-play opportunities as Hamilton was 0-for-2 and the Camels didn't have any.

The Continentals are back in action on Saturday, Jan. 12, when they host Tufts University for another NESCAC game. Conn. College continues its road swing at nationally ranked No. 9 Amherst College.