Men's ice hockey slips up at No. 1 Plattsburgh
---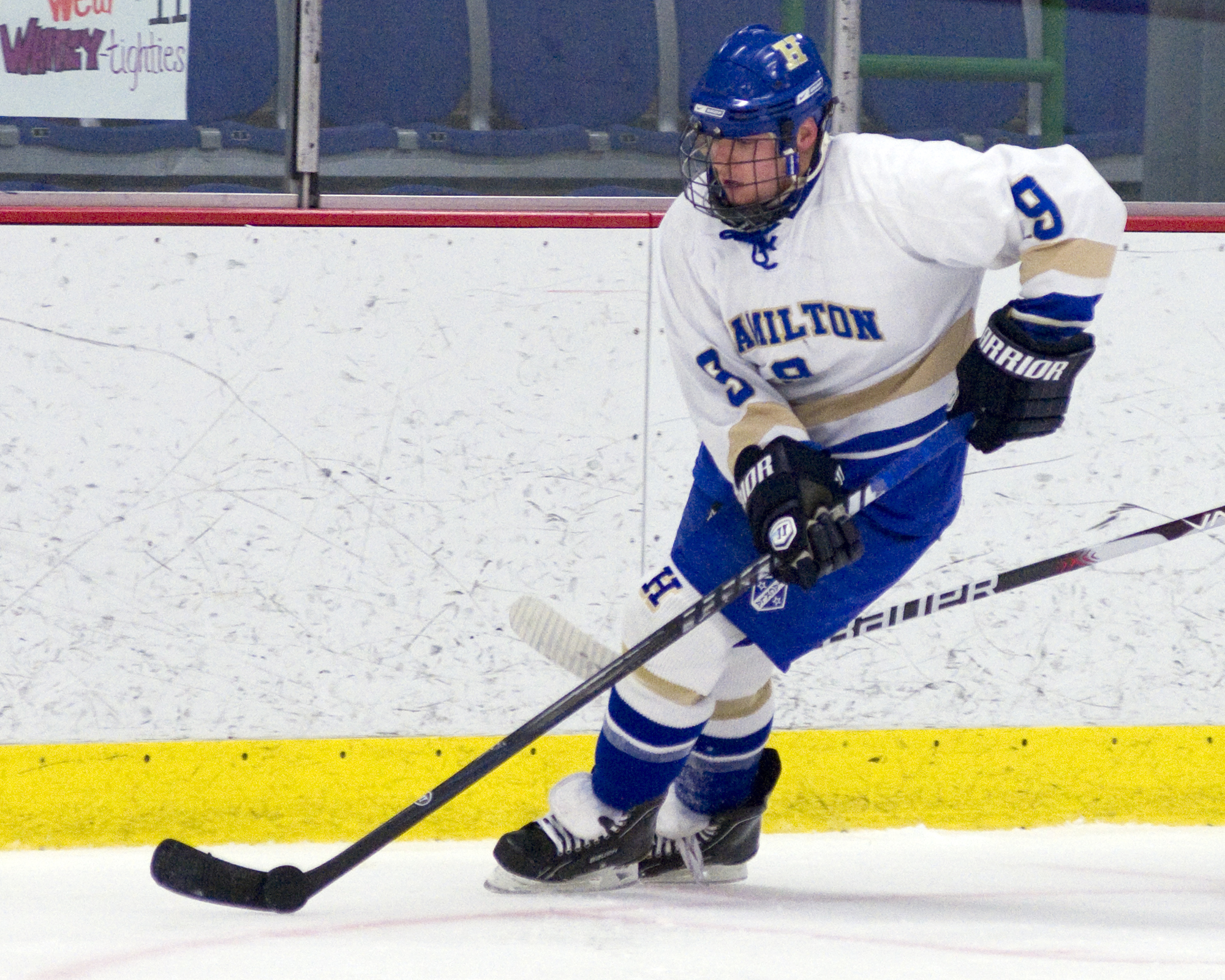 SUNY Plattsburgh's Alex Brenton recorded a hat trick and the nationally ranked No. 1 Cardinals posted a 5-2 win against the Hamilton College Continentals in the opening round of Plattsburgh's Buck Supply Winter Classic at Stafford Ice Arena on Jan. 3.

Box Score

Hamilton (3-4-1 overall) plays NESCAC foe Williams College in the event's consolation game at 4 p.m. on Saturday, Jan. 4. No. 7 Williams lost 3-2 in overtime against Hobart College on Friday afternoon.

Dillan Fox and Kyle Hall had the other goals for the Cardinals. Alex Jensen and Nick Jensen were credited with two assists apiece, and Mathieu Cadieux made 29 saves.

Mike DiMare '14 scored his seventh goal and added his ninth assist for the Continentals. DiMare is ranked third in Division III with 2.00 points per game and has 82 points in 72 career games at Hamilton.

Pat Curtis '15 tallied a goal and an assist and Kenny Matheson '16 picked up a pair of helpers. Joe Quattrocchi '14 stopped 37 shots in 58-plus minutes in goal.

Plattsburgh (10-0-2) grabbed a 1-0 lead at 10:52 of the first period on Brenton's first goal of the night. DiMare knotted the score at 1-1 with 27 seconds left in the period.

The Cardinals were whistled for two penalties in the opening 87 seconds of the second period and the Continentals took advantage. Curtis scored his second goal this season at 1:52 of the period while Hamilton enjoyed a 5-on-3 power play, and the Continentals owned a 2-1 lead.

Plattsburgh stormed back and took the lead for good later in the period. Hall's third goal tied the score at 7:24 and Brenton put the Cardinals ahead 3-2 with 9:17 left in the second. Plattsburgh escaped another jam later in the period when two players were sent to the penalty box 55 seconds apart for high-sticking. The Cardinals called timeout after the second penalty with 5:30 remaining, and Hamilton lost its 5-on-3 advantage 18 seconds later when one of the Continentals was sent off for interference.

Fox's eighth goal gave Plattsburgh a 4-2 cushion at 7:49 of the third period and the Cardinals clinched the win on an empty-net goal by Brenton with two seconds to go. Brenton has five goals and Alex Jensen got his 13th assist on the empty-netter.

Plattsburgh held a 42-31 shot advantage but was 0-for-5 on the power play. Hamilton scored on 1 of 6 power-play chances.