Men's ice hockey ties Utica
---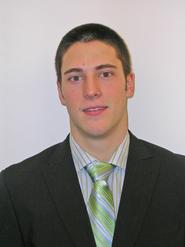 BJ Lalonde '12 paced the Hamilton College offense with one goal and one assist as the Continentals tied visiting Utica College 3-3 in a non-conference game played at Russell Sage Rink on Nov. 30.

This marked the second year in a row the local rivals played to a 3-3 deadlock, and it's the third straight time they have gone to overtime. The all-time series is tied, 5-5-3. Scott Hefferman '11 stopped 42 shots for Hamilton, including 19 in the second period alone.

Special teams accounted for all six goals. The Continentals (2-1-1) grabbed a 1-0 lead during a 5-on-3 advantage with 45 seconds left in the first period on Lalonde's first goal this season. Chris Lorenc '10 made it a two-goal lead with his third tally on a blast from the right circle at 13 minutes, 27 seconds of the second.

The Pioneers pulled within 2-1 during a two-man advantage with 3:09 remaining in the second. Tom Chiappetta '11 restored Hamilton's two-goal cushion with a shorthanded goal on a breakaway up the right side 44 seconds later. Utica cut the deficit to one again with 19 seconds left in the period.

The Pioneers tied the score at 3-3 at 3:28 of the third period, and 34 seconds after a Hamilton player had been sent off for interference. Utica ended up 3-for-9 on the power play, and the Continentals were 2-for-5. Utica enjoyed a 45-28 advantage in shots.

Hamilton travels to St. Michael's College for a New England Small College Athletic Conference/ECAC East crossover contest on Friday, Dec. 4.