Men's indoor track & field 6th after first day at state meet
---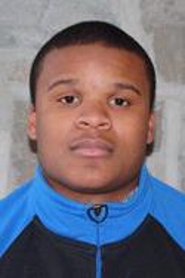 Hamilton College's Jimmy Alexis '13 finished first and broke a school record in the pole vault on the first day of the 2013 New York State Collegiate Track Conference (NYSCTC) Indoor Championships at Ithaca College's Glazer Arena on Feb. 22.

Results

Hamilton sits in sixth place with 18 points after the first day of the two-day meet. Nationally ranked No. 15 Rochester Institute of Technology leads the field with 57 points. The NYSCTC championships conclude on Saturday, Feb. 23.

After coming up just shy of the school record the past two weeks, Alexis cleared a height of 4.58 meters (15 feet, 0.25 inches) on his second try. James Russell '09 held the old record of 4.57 meters since January 2009.

Joe Jensen '15 posted the best time in both the 200- and 400-meter dash prelims. In the 200 meters, Jensen's time of 22.51 seconds qualified him for the 2013 Eastern College Athletic Conference (ECAC) Division III Indoor Championships, which will be held at New York City's New Balance Armory Track & Field Center on March 1 and 2. Jensen bettered his top time this season in the 400 as he finished in 50.29 seconds.

Mbuotidem Isaac '15 qualified for the finals of the 60-meter dash after he finished seventh in 7.19 seconds. Hashem Zikry '13 completed the 5,000-meter run in a season-best time of 15:21.99 and ended up third. The distance medley relay of Evan Abelson '16, Nate Somes '16, Andrew Mandelbaum '16 and James Bryan '16 finished seventh with a time of 10:50.20.

Jake London '14 is currently third in the heptathlon with 2,453 points through four events. London was first in the 60 meters (7.34 seconds), fourth in the high jump with a height of 1.84 meters (6 feet, 0.5 inches), ninth in the long jump at 5.99 meters (19 feet, 8 inches) and 13th in the shot put with a distance of 9.29 meters (30 feet, 5.75 inches).