Men's lacrosse rallies for overtime win
---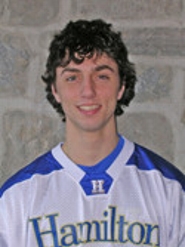 Jon Leanos '12 scored 62 seconds into the first sudden-victory overtime period to lift Hamilton College to an 8-7 win against Babson College in a non-league men's lacrosse game at Hamilton's Steuben Field on March 12.

Leanos finished with a career high-tying five goals and also had an assist. Leanos scored five goals in a 15-3 win at Sewanee on March 17, 2010. He scored the Continentals' last five goals -- all during the final 18 minutes. Max Vaickus '12 made 11 saves. Paul Citarella '12 and Mike Fiacco '13 recorded five ground balls apiece, and Citarella won 9 of 14 face-offs.

Alex Patinkin '13 and Jamie Schmidt '13 paced the Babson offense with two goals and one assist apiece. Patinkin leads the Beavers with 10 goals and 16 points. Armand Wilson '11 chipped in one goal and two assists. James Whalen '13 stopped 15 shots, including seven in the third quarter. Christian Ebert '11 scooped up eight ground balls and caused four turnovers, and Ryan Kucinski '11 was credited with three caused turnovers.

Hamilton (1-0 overall) trailed 3-2 at the half, but Luke Sadoff '12 tied it at 3-3 just 14 seconds into the third quarter when he scored off a faceoff win for the Continentals.

Babson (1-3) proceeded to score the next three goals for a 6-3 advantage with 5:21 left in the third. Patinkin registered a man-up goal with 11:02 remaining, and Jeremy Yudkin '12 scored his first this year just 13 seconds later. Schmidt notched another man-up goal to give the Beavers a three-goal cushion. Babson was 3 of 9 on extra-man opportunities.

Leanos and Hamilton roared back late in the third with a pair of man-up goals. The first came with 1:56 left, and the second with eight ticks remaining in the quarter to pull the Continentals within one at 6-5.

The Beavers regained their two-goal lead with 12:48 left in the fourth on Schmidt's second goal of the afternoon and eighth this year. Leanos slashed Babson's advantage to one again 11 seconds later, and tied the score for the fourth time with 6:50 remaining in regulation.

In overtime, Citarella won the faceoff as Sadoff picked up the ground ball. Eventually the ball found its way to Leanos, who drove towards the goal from the right side and fired a low shot past Whalen for the game-winner. The overtime goal represented the only time Hamilton led the entire game. The Beavers never had possession in the extra period.

The Continentals held a 44-36 shot advantage, and were 2 of 10 on extra-man opportunities. Hamilton limited Babson to 16 successful clears out of 27 attempts. Hamilton's last overtime win came at home on March 22, 2006, against Utica College by an 11-10 score.

The Continentals travel to Greensboro, N.C., for another non-league game against Greensboro College on Wednesday, March 16. The Beavers return home to face University of Massachusetts-Boston on Wednesday night.