Men's lacrosse edged in defensive struggle
---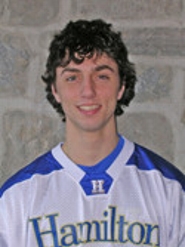 Kyle Kasprzyk '13 scored two goals and had one assist, and Ryan Cole '13 made 11 saves to lead Clarkson University to a 7-5 win against Hamilton College in a Liberty League men's lacrosse game at Hamilton's Steuben Field on April 16.

Clarkson (8-4 overall, 4-0 Liberty) remained in a tie for first place in the league standings, and the Golden Knights clinched a spot in the four-team league championship. Clarkson has won five straight games.

The Continentals (7-3, 1-3) have dropped three of their last four -- all in league play. Hamilton hosts nationally ranked Skidmore College for another league game on Wednesday, April 20.

Bryan Huff '12 added one goal and three assists for the Golden Knights. Cole made five of his 11 saves in the fourth quarter as he shut out the Continentals in the final 15 minutes. He also picked up five ground balls. Jack Keenan '14 won 6 of 10 face-offs, and Matt Davidson '12 led the defense with four caused turnovers.

Jon Leanos '12 paced the Hamilton offense with three goals and one assist. McCullough Shriver '13 and Pax Anthos '14 added one goal apiece, and Luke Sadoff '12 was credited with one assist. Paul Citarella '12 won 9 of 14 face-offs, and Chris Whelan '13 picked up three ground balls. Ed Reed '13 and Corbin Brown '11 caused two turnovers apiece. Max Vaickus '12 stopped six shots and scooped up three ground balls.

The score was tied at 3-3 at the half, but the teams combined to score five goals in a busy third quarter. Kasprzyk tallied a man-up goal for a 4-3 Clarkson lead with 11:56 left in the third. Anthos tied the score again while the Continentals had the man-advantage with 10:36 remaining.

Kasprzyk put the Golden Knights ahead to stay on an assist by Matt McCabe '13 with 3:38 left, and Mitch Collins '11 made the score 6-4 with his eighth goal at 1:13. Leanos pulled Hamilton within one on his 21st goal with seven seconds remaining. He leads the team with 44 points.

Huff gave Clarkson a two-goal cushion with his 17th on a pass from Kasprzyk with 12:55 left in the fourth quarter. Cole, who entered the afternoon with a .569 save percentage, took care of the rest for the Golden Knights.

The Continentals held a 30-24 shot advantage and won 9 of 15 face-offs. Clarkson leads the all-time series, 32-19. The Golden Knights host Union College in another league game on Saturday, April 23.