Men's lacrosse knocks off No. 11 Skidmore
---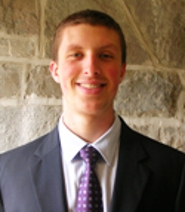 Max Vaickus '12 made a season-high 16 saves to lead Hamilton College to a 9-8 upset win against nationally ranked No. 11 Skidmore College in a Liberty League men's lacrosse game at Hamilton's Steuben Field on April 20.

Luke Walsh '13 broke an 8-8 tie on his 14th goal with 2:18 left in the fourth quarter. On the ensuing faceoff, a Skidmore player was sent off for 60 seconds for an unreleasable unsportsmanlike conduct penalty. After two turnovers by each team, the Continentals called a timeout in their offensive end of the field with 20.2 seconds remaining.

As play resumed, Scott Madison '11 knocked the ball away from Hamilton's McCullough Shriver '13, and Michael Jennings '11 scooped up the loose ball for the Thoroughbreds. Jennings passed to Jacques Ward '11, who sprinted into Skidmore's offensive zone. Ward got off a contested shot that bounced once before Vaickus easily smothered it. Vaickus carried the ball around the back of the goal to run off the last couple seconds before he was mobbed by teammates.

The save total is the most for Vaickus since he made a career-high 20 at St. Lawrence University on April 25, 2009. He raised his save percentage to .601 and his goals against average is 6.34. He stopped all five shots he faced in the fourth quarter.

Chris Whelan '13 led the Continentals' offense with two goals and one assist. Walsh was credited with two assists to go with his game-winning goal. Luke Sisler '14 and Pax Anthos '14 scored two goals apiece. Corbin Brown '11 scored his third goal, and Henry Burchenal '12 notched his team-high 22nd. Jon Leanos '12 picked up his 24th assist, which leads the team.

Brown and Mike Fiacco '13 caused two turnovers apiece. Ed Reed '13 picked up six ground balls, and Paul Citarella '12 won six face-offs. Citarella also had four ground balls.

Mike Holden '13 paced the Thoroughbreds with five goals, and leads the team with 30. Mike Perlow '13 chipped in two goals, and Ben Cornell '11 had one goal and one assist. Bryan Connolly '13 had three helpers to push his team-best total to 15. Matt Levesque '11, Jon Hoeg '13 and Jeremy Goldman '11 all had one assist.

Ward and Hoeg finished with six ground balls apiece, and Levesque caused two turnovers. Ryan Paradis '12 won 12 of 20 face-offs and scooped up five ground balls. Paradis had won 61.8 percent of his face-offs coming into the afternoon. Connor Dowling '12 stopped six shots.

Anthos scored a man-up goal with 11:36 left in the first quarter to stake Hamilton to a 1-0 lead. Skidmore scored the next three goals, and the Continentals didn't lead again until Walsh's game-winner. However, Hamilton tied the score at 3-3, 4-4, 5-5, 6-6 and 8-8. A seven-goal second quarter ended with the Thoroughbreds clinging to a 6-5 lead.

Sisler evened the score at 6-6 with 10:57 remaining in the third quarter. Goals by Holden and Perlow gave Skidmore an 8-6 lead at the end of three quarters. Sisler's 10th goal pulled the Continentals within one with 11:27 left, and Anthos' 10th made the score 8-8 with 5:29 remaining.

The Thoroughbreds (9-3 overall, 3-1 Liberty) enjoyed a 47-21 shot advantage, and had 38 ground balls to 30 for Hamilton. Skidmore was just 1-for-7 on extra-man opportunities.

The Continentals (8-3, 2-3) stayed alive in their pursuit of the team's first league championship berth since 2006, which was also the last year Hamilton defeated the Thoroughbreds. The Continentals lead the all-time series, 21-9.

Hamilton hosts Morrisville State College for a non-league game on Saturday, April 23. Skidmore travels to Vassar College for another league contest on Saturday.