Men's lacrosse coasts to 10th win
---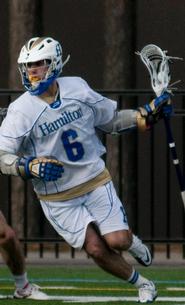 Jon Leanos '12 scored three goals and added his 33rd assist to lead Hamilton College to a 12-5 win against Keuka College in a non-league men's lacrosse game at Hamilton's Steuben Field on April 27.

The Continentals (10-3 overall) won their third straight game and finished 7-1 at home this year. Hamilton travels to St. Lawrence University for a Liberty League contest and the season finale on Saturday, April 30.

Leanos leads the league in assists per game and points per game. He has 28 goals and 33 assists for 61 points.

Chris Whelan '13 chipped in two goals and one assist for Hamilton. Luke Sisler '14 and Pax Anthos '14 tallied two goals apiece, and Steve Lefebvre '11 had a goal and an assist. Henry Burchenal '12 scored his 28th goal, and David Goldstein '13 notched his first for the Continentals.

Adam Kelsey '13 led the defense with three caused turnovers. Burchenal and Whelan picked up six ground balls apiece, and Paul Citarella '12 won five face-offs. Garrett Akie '12 started in goal and made seven saves in 50-plus minutes. Barrett Meister '14 stopped all three shots he faced in his first collegiate action.

Gino Marcello '12 paced Keuka with three goals and one assist. Marcello leads the Storm with 36 goals and 51 points. Nick Judge '14 and Mike Donals '14 added one goal apiece. Kaisch Wheeler '14 won 9 of 15 face-offs and scooped up six ground balls. James Downs '14 led the defense with three caused turnovers and five ground balls. Brett Leonard '11 turned away 10 shots.

Keuka (8-5) grabbed a 1-0 lead just 29 seconds into the first quarter when Marcello scored an unassisted goal. Hamilton responded with the next four goals and never trailed again. Whelan tied the score with 6:57 left in the first, and Leanos gave the Continentals the lead for good 52 seconds later. Sisler made it 3-1 with 4:19 remaining in the quarter. Leanos found Goldstein for the 4-1 lead with 11:50 left in the second quarter.

Donals' third goal of the year pulled the Storm within 4-2 with 10:05 remaining in the second. But Hamilton pulled away with five consecutive goals. The Continentals led 8-2 at the half, and Leanos scored on a pass from Whelan for a 9-2 cushion with 12:23 left in the third quarter.

Hamilton held a 36-31 edge in shots while Keuka won 12 of 20 face-offs. The Storm committed 31 turnovers, which contributed to just 16 successful clears out of 30 attempts. Keuka's win streak ended at seven in a row. The Continentals have won six straight games between the two programs, although this was the first meeting since 2003.

The Storm host SUNY Cobleskill in a North Eastern Athletic Conference championship semifinal on Wednesday, May 4.