Men's lacrosse doubles up Utica in regular season finale
---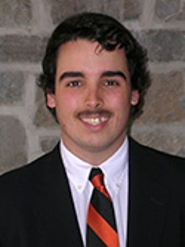 Hamilton College rattled off the last seven goals and turned a two-goal deficit into a 10-5 non-conference win against Utica College at Utica's Gaetano Stadium on April 24.

Hamilton (9-5 overall) won its fifth straight game and the Continentals extended their non-conference win streak to 24 games in a row. The Continentals are the No. 7 seed in the 2013 NESCAC Championship and will travel to No. 2 seed Connecticut College for a quarterfinal on Saturday, April 27. Hamilton upset the nationally ranked Camels 5-4 at home on April 13.

Hamilton scored six goals and didn't allow any in the fourth quarter as the Continentals claimed the Contineer Cup for the third consecutive year. Hamilton improved to 13-1 all-time against the Pioneers.

Connor Morgan '15 led the Continentals with three goals. Bryan Hopper '14 tallied two goals and an assist, and Luke Walsh '13 scored twice. John Zimmerman '15 netted one goal and passed out three assists. Ed Reed '13 stuffed the stat sheet with a goal and game highs of six ground balls and four caused turnovers, and Ryan McCausland '16 added a goal.

Nate Menninger '16 won five face-offs and scooped up four ground balls for Hamilton. Will Driscoll '15 started in goal and played 17-plus minutes before he left with an injury. Barrett Meister '14 made five saves the rest of the way for his first career win.

Ben Winkler paced the Pioneers with three goals. Trent Jacobs chipped in a goal and an assist, and Justin Edelstein recorded a goal. Adam Zielenski, TJ Benson and Zack Stevenson finished with one assist each. Stevenson led the team with five ground balls and won 10 face-offs. Sean Flanagan caused three turnovers and Andrew DiOrio stopped 10 shots.

Utica (8-6) wasted no time getting on the scoreboard as Stevenson set up Winkler just 13 seconds into the first quarter. Walsh responded for the Continentals 67 seconds later with his 12th goal on a feed from Hopper. Winkler added his second goal during a man-up opportunity after a pass from Benson with 7:56 left in the first. The Pioneers led 2-1 after one quarter.

Each team netted one goal in the second quarter and Utica clung to a 3-2 lead at the break. Reed, a defenseman, scored his first goal for Hamilton with 7:27 remaining in the half. The Pioneers reclaimed the lead with 4:40 left in the second when Edelstein scored an unassisted goal.

Hamilton tied the score again on an unassisted tally by Hopper with 7:10 to go in the third quarter. For a moment, it seemed Utica was going to pull away after the Pioneers scored a pair of goals in a 20-second span. Jacobs received a pass from Zielenski and slipped a shot by Meister with 3:01 left in the third, and Jacobs assisted on Winkler's third goal for a 5-3 lead with 2:41 remaining. Hamilton cut its deficit to one just 10 seconds later when Hopper won the ensuing faceoff, Zimmerman ended up with the ball and found Morgan for the first of his three goals.

The Continentals owned the fourth quarter. Morgan started the run with an unassisted goal that tied the score at 5-5 with 10:58 left. He gave Hamilton its first lead with his 16th goal on an assist from Zimmerman with 8:57 remaining. Unassisted goals by Hopper and Walsh extended the lead to 8-5 with 5:05 left. Zimmerman added an insurance goal with 1:50 to go and found McCausland with 22 ticks left for his first collegiate goal.

Hamilton outshot Utica 36-25 and held a slight 28-25 advantage in ground balls. The Pioneers won 10 of 19 face-offs and had seven man-up opportunities, but was only able to score once. Hamilton is ranked 13th in Division III in man-down defense at 84.8 percent.