Men's lacrosse drops No. 15 Trinity
---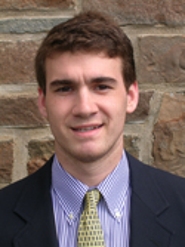 Luke Sadoff '12 scored four goals to lead Hamilton College to a 9-7 upset over nationally ranked No. 15 Trinity College in a NESCAC game at Hamilton's Steuben Field on April 21.

Hamilton (8-5 overall, 5-5 NESCAC) has won seven of its last eight games. The Continentals lead the all-time series 2-1. Hamilton had not played Trinity since 2001.

Henry Burchenal '12 added two goals to bring his career total to 100. Burchenal is the fourth player in program history to reach the milestone.

Connor Morgan '15 posted one goal and one assist, and Bryan Hopper '14 and Luke Walsh '13 scored the other Hamilton goals. Jon Leanos '12, Paul Armideo '13 and Michael Clarke '13 were credited with one assist apiece. Leanos leads the team with 17 assists and 42 points.

Paul Citarella '12 scooped up a game-high seven ground balls and won 12 of 19 face-offs. Burchenal, Clarke and Mike Fiacco '13 collected five ground balls apiece, and Fiacco and Baylis Treen '15 each caused three turnovers. Max Vaickus '12 made 10 saves in goal.

Nick Shaheen '13 led the Bantams' offense with two goals. Rob Nogueras '13 Jeff Hebert '13 and James O'Connell '15 posted one goal and one assist apiece. Matt Cohen '13 and Matthew Hauck '15 scored the other goals and Chase Growney '14 was credited with an assist.

Charles Finnegan '15 and T.J. Cholnoky '13 each picked up three ground balls, and Alex Gottsch '12 caused three turnovers. Peter Johnson '12 stopped 12 shots in net.

Cohen and Nogueras sandwiched a pair of unassisted tallies around a man-up goal by Hebert, and the Bantams led 3-0 with 10:28 remaining in the first quarter.

Morgan put Hamilton on the board with a man-up goal with 7:54 left in the first while Trinity served a three-minute penalty for using illegal equipment. Burchenal pulled the Continentals to within 3-2 with a man-up goal at 1:40.

O'Connell scored an unassisted goal to put Trinity ahead 4-2 with 6:57 left in the second quarter. But Sadoff scored his first goal of the game at 4:39 and Hopper tallied with 2:24 left to tie the score. The teams were deadlocked at 4 at the break.

Sadoff found the back of the net at 8:34 of the third to give Hamilton its first lead at 5-4. Hebert fed Houck for a goal with 6:17 left in the third to tie the score again.

Burchenal's goal off an assist from Morgan with 4:20 remaining in the third gave Hamilton the lead for good. Walsh scored an unassisted goal with 13:13 to play to stretch the Continentals' lead to 7-5.

Trinity (8-5, 6-3) pulled within 7-6 on a goal by Shaheen off an assist from Growney with 11:38 to play. After Sadoff scored an unassisted goal at 10:16, Shaheen again found the back of the net with 5:49 to play. Sadoff closed the scoring with 2:10 left off an assist from Armideo for the final margin.

Hamilton held a 46-39 shot advantage, and was credited with 47 ground balls to Trinity's 28. The Continentals went 3-for-6 with the extra man. Trinity converted 2 of 8 man-up opportunities.

Hamilton hosts local non-conference rival Utica College for its regular season finale on Wednesday, April 25, at 4 p.m.