Men's lacrosse drops triple-overtime thriller
---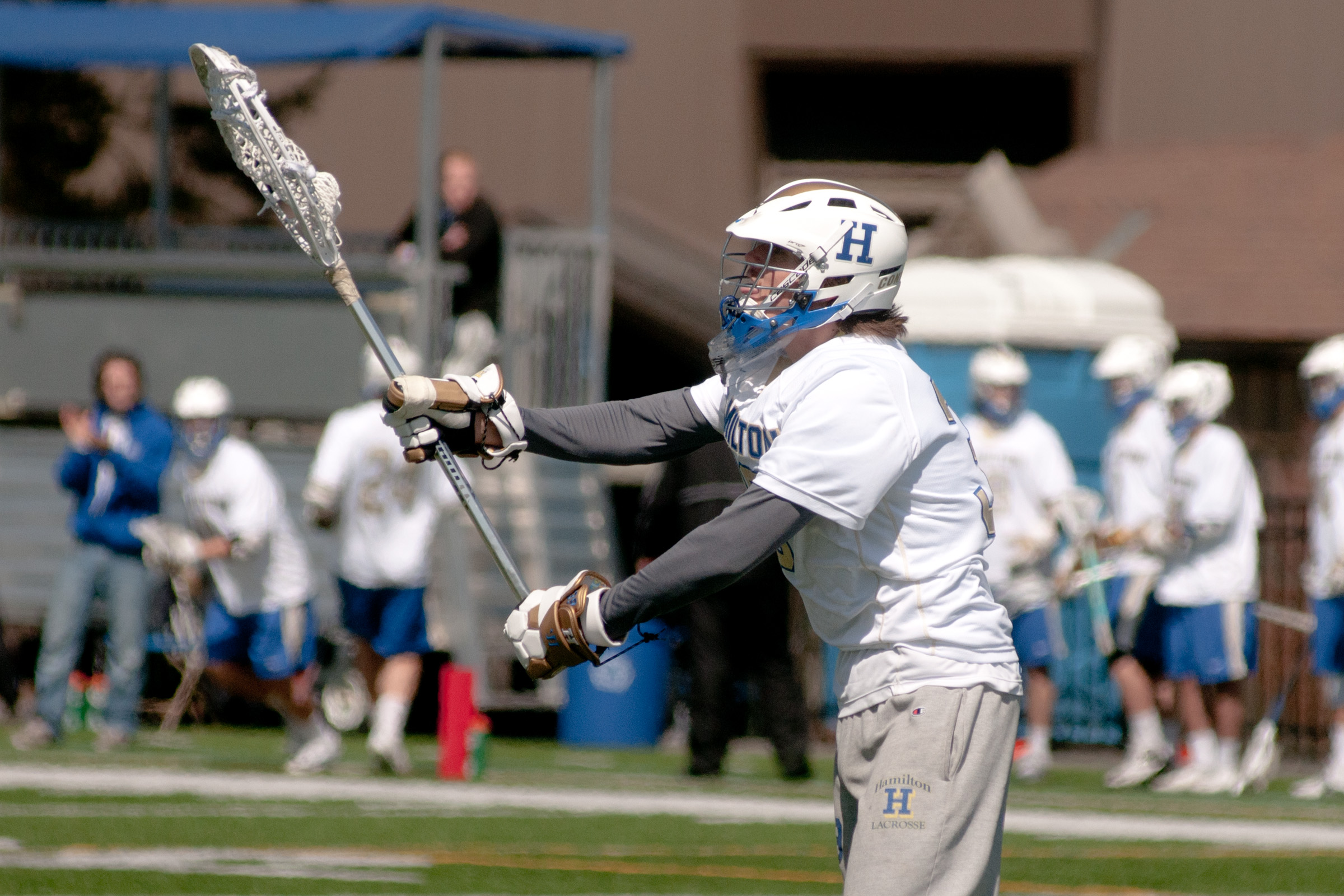 The Hamilton College Continentals dropped a 9-8 NESCAC decision in three overtimes against the nationally ranked No. 18 Bowdoin College Polar Bears at Hamilton's Steuben Field on Saturday afternoon.

Box score

The Continentals (1-4, 0-3 NESCAC) have played four one-goal games in their five contests this spring. Hamilton has already taken on three ranked opponents.

Hamilton tied the game with 7.3 seconds left in the fourth quarter on a goal by John Zimmerman '15 before the teams played 9:31 of scoreless sudden-victory overtime.

Bowdoin's Will Wise '14 scored the game winner off a Hamilton turnover with 2:29 left in the third OT. The Continentals forced a turnover in their own end but were called for an offsides violation on their clear attempt. Wise took a pass from David Nemirov '15 and scored his eighth goal of the season and second of the game.

Zimmerman's late goal was the third score in the final 82 seconds of regulation. Hamilton tied the game at 7-7 on a goal by Connor Morgan '15 (assisted by Zimmerman) with 1:22 to go and Bowdoin retook the lead 44 seconds later on a goal by Conor O'Toole '14.

The teams combined for just two shots on goal but eight turnovers in the first two extra sessions. The Polar Bears won the faceoff to start overtime but Nemirov's shot was saved by Hamilton's Will Driscoll '15. Hamilton's Trip Connors '17 won the draw to start the second overtime and the Continentals' ensuing shot by Sam Sweet '16 was stopped by Connor Laughlin '15.

Bowdoin's Peter Reuter '16 led all players with three goals. Reuter closed out the first half scoring with his 10th goal and put the Polar Bears up 5-2 by tallying the first score of the second half 3:48 into the third.

Hamilton followed Reuter's second goal with four straight scores to take the lead for the first time. Bryan Hopper '14 fed Pat Donahoe '16 for the tying goal with 2:29 left in the third, then scored his seventh goal 1:51 into the fourth to put the Continentals ahead 6-5.

Bowdoin (4-1, 3-0) scored a pair of goals in a 46-second span to take a 7-6 lead before the eventful final minute. Dan Hanley '14 tied the game with 7:32 left and Reuter put the Polar Bears back on top on their next possession.

Zimmerman finished with a goal and three points to lead Hamilton. Sellers Garrett '16 scooped up a career-best five ground balls and Casey Kopp '17 picked up four. Dylan Lahey '15 caused three turnovers, giving him seven on the season. Driscoll finished with 14 saves and four ground balls.

Hanley and Wise scored a pair of goals apiece for Bowdoin. Jack Carrier '15 led all players with five caused turnovers, including two in overtime. Rob Talcott '15 picked up a team-best six ground balls and Hanley, Reuter and Ben Brewster '14 had four apiece. Laughlin stopped nine shots.

Hamilton plays a non-conference game at Skidmore College on Tuesday, March 18, at 5 p.m. The Polar Bears host Norwich University on Tuesday.