Men's lacrosse edged by one goal at Colby
---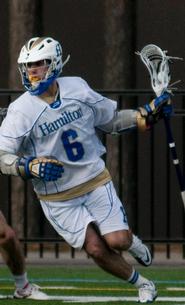 John Jennings scored five goals to lead Colby College to an 11-10 win against Hamilton College in a NESCAC game at Colby's Bill Alfond Field on March 17.

Hamilton (0-3 overall, 0-3 NESCAC) has lost its last two games by one goal. The Continentals were edged 9-8 by Wesleyan University at home on March 11.

The Mules (1-1, 1-1) have a 20-3 home record over the past four seasons. All three losses have been one-goal games.

Ian Deveau chipped in two goals and one assist for the Mules. Greg McKillop and Jonathan McIvor added one goal and two helpers apiece. Trevor Shorb and Jed Rooney scored one goal apiece. Bjorn Knutson was credited with one assist, 10 faceoff wins and eight ground balls. Christian Kelso led the defense with five ground balls and two caused turnovers. Peter Reiley made 12 saves, including six in the third quarter.

Jon Leanos '12 paced Hamilton with four goals and one assist. Henry Burchenal '12 tallied four goals and Luke Sadoff '12 had one goal and two assists. Luke Walsh '13 scored the other goal and Paul Armideo '14 passed out four assists. Paul Citarella '12 won 12 of 19 face-offs and scooped up seven ground balls. Mike Fiacco '13 led the defense with four caused turnovers and five ground balls. Max Vaickus '12 made four saves.

The Mules appeared to have control late in the third quarter when Deveau scored unassisted with 1:22 left for a 10-5 lead. The Continentals changed the momentum on Walsh's goal from Sadoff with just 11 seconds left in the quarter.

Citarella was a key player in the fourth quarter. He won five of six face-off attempts and helped his team keep possession for much of the period.

The Continentals scored two goals in the first 4:03 of the fourth to cut their deficit to 10-8. Burchenal scored his fourth goal from Sadoff with 12:31 left and Leanos tallied unassisted with 10:57 remaining. Hamilton had a 21-3 shot advantage in the final quarter.

The Mules managed just three shots in the final 15 minutes, but Deveau made one count on a blast from in front off an assist from McIvor with 5:36 to play. Hamilton cut the lead back down to two goals with 2:57 to play when Leanos tallied off an assist from Armideo. Leanos then scored unassisted with just 27.7 seconds left to make it 11-10.

The Continentals won the important face-off, but Kelso caused a turnover with 11 seconds left, and immediately threw the ball just past midfield while being pressured. Hamilton came up with the ball, but was unable to get off a late shot.

The Mules took a 3-0 lead in the first 3 minutes, 24 seconds, and never trailed. Colby led 3-1 after one period and 5-4 at halftime.

The Continentals owned a 54-25 shot advantage, picked up more ground balls (30-24), won more face-offs (15-10) and committed just 11 turnovers to Colby's 18.

Hamilton aims for its first win of 2012 on Wednesday, March 21, when the Continentals travel to Drew University for a non-conference game.