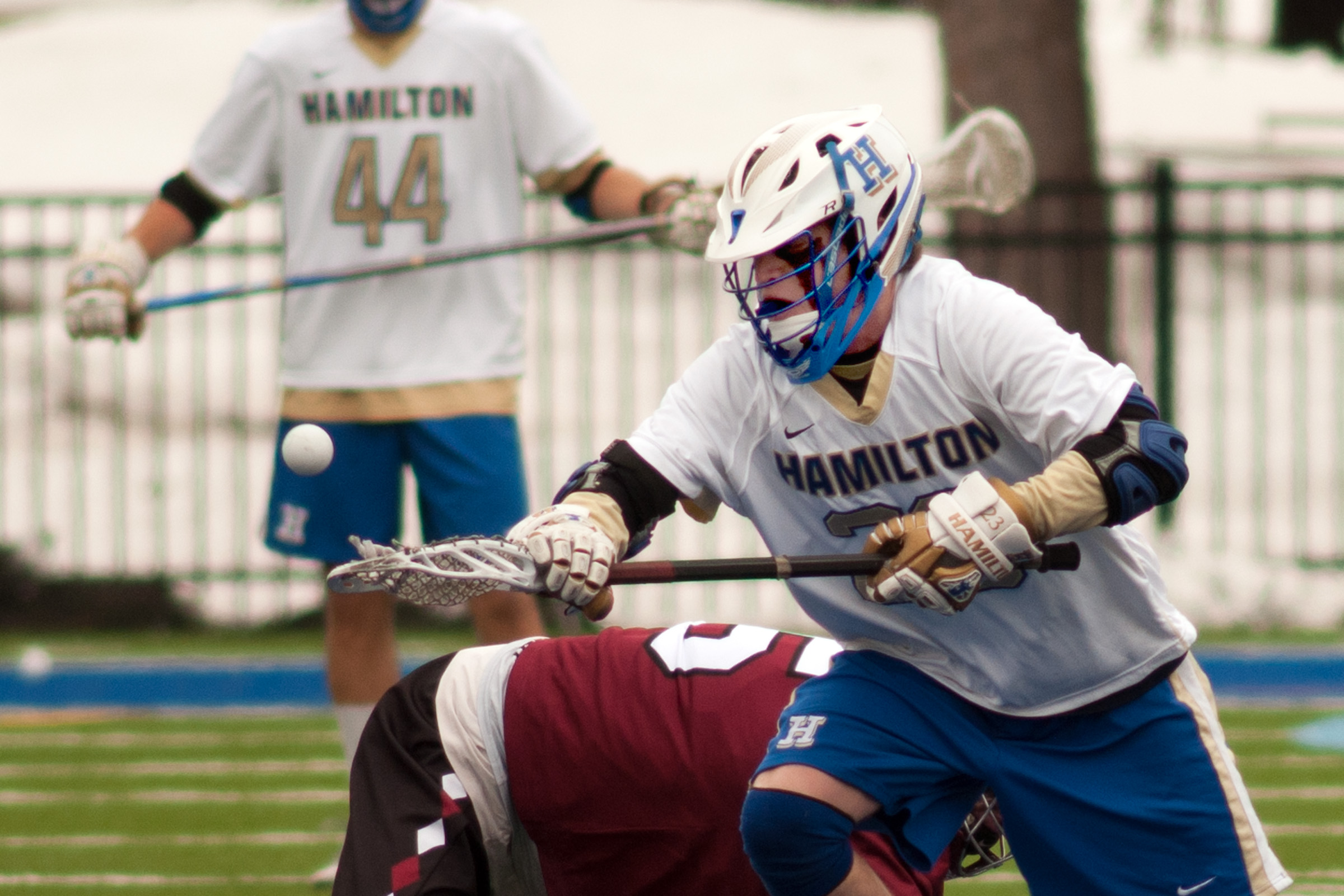 The Hamilton College Continentals jumped out to a 7-0 lead and held on for a 14-11 NESCAC win against the Trinity College Bantams at Trinity's Jessee/Miller Field on April 19.

Box Score

Hamilton (5-9, 2-8 NESCAC) enjoyed a 52-28 shot advantage in its season finale. The Continentals also held a 34-19 cushion in ground balls and won 20 of 28 faceoffs.

Connor Morgan '15 and Sam Sweet '16 led Hamilton's offense with three goals and one assist apiece. Paul Armideo '14 chipped in two goals and two helpers and Bryan Hopper '14 notched two goals. Brian Bauersfeld '15 added one goal and one assist and Trip Connors '17 picked up two assists. Joe Ricciuti '16, John Zimmerman '15 and Pat Donahoe '16 scored one goal each, and J.D. Brachman '17 and Dan Cahill '17 were credited with one assist apiece.

Connors won 19 faceoffs and scooped up nine ground balls. Dylan Lahey '15 picked up five ground balls and caused two turnovers, Chad Berger '14 caused two more and Will Driscoll '15 made seven saves.

Matthew Hauck paced Trinity (4-10, 1-8) with three goals and an assist. Will Benjamin scored three times and Chase Growney and James O'Connell ended up with two goals apiece. Michael McQuiston added a goal and Oliver Norton and Reid McCool were credited with one helper apiece.

McCool finished with three ground balls and three caused turnovers. Mickey Zaverucha started in goal and made 12 saves during the first two quarters. Riley Cahill stopped five shots in the last 30 minutes.

The Continentals led 5-0 after one quarter and 7-0 with 10:59 left in the second. Connors won the opening faceoff and scored just six seconds into the game. Connors proceeded to win the next faceoff and fed Morgan for a 2-0 advantage 12 seconds in.

Armideo made it 3-0 with an unassisted goal and he found Sweet for a man-up tally and a four-goal lead with 3:21 remaining in the first. Bauersfeld scored the last goal of the opening quarter. Armideo and Hopper scored 13 seconds apart and provided Hamilton's seven-goal advantage early in the second quarter.

McQuiston finally put the Bantams on the scoreboard with 8:51 to go in the second. Trinity didn't get closer than six goals until late in the fourth quarter. The Continentals led 10-3 at the half, 11 -5 after three quarters and 14-6 after Bauersfeld found Morgan for his third goal of the afternoon with 11:23 left.

The Bantams ended the game with five straight goals and cut their deficit to three for the first time since early in the first quarter. Benjamin scored all three of his goals in the late flurry and Hauck added a goal and an assist.