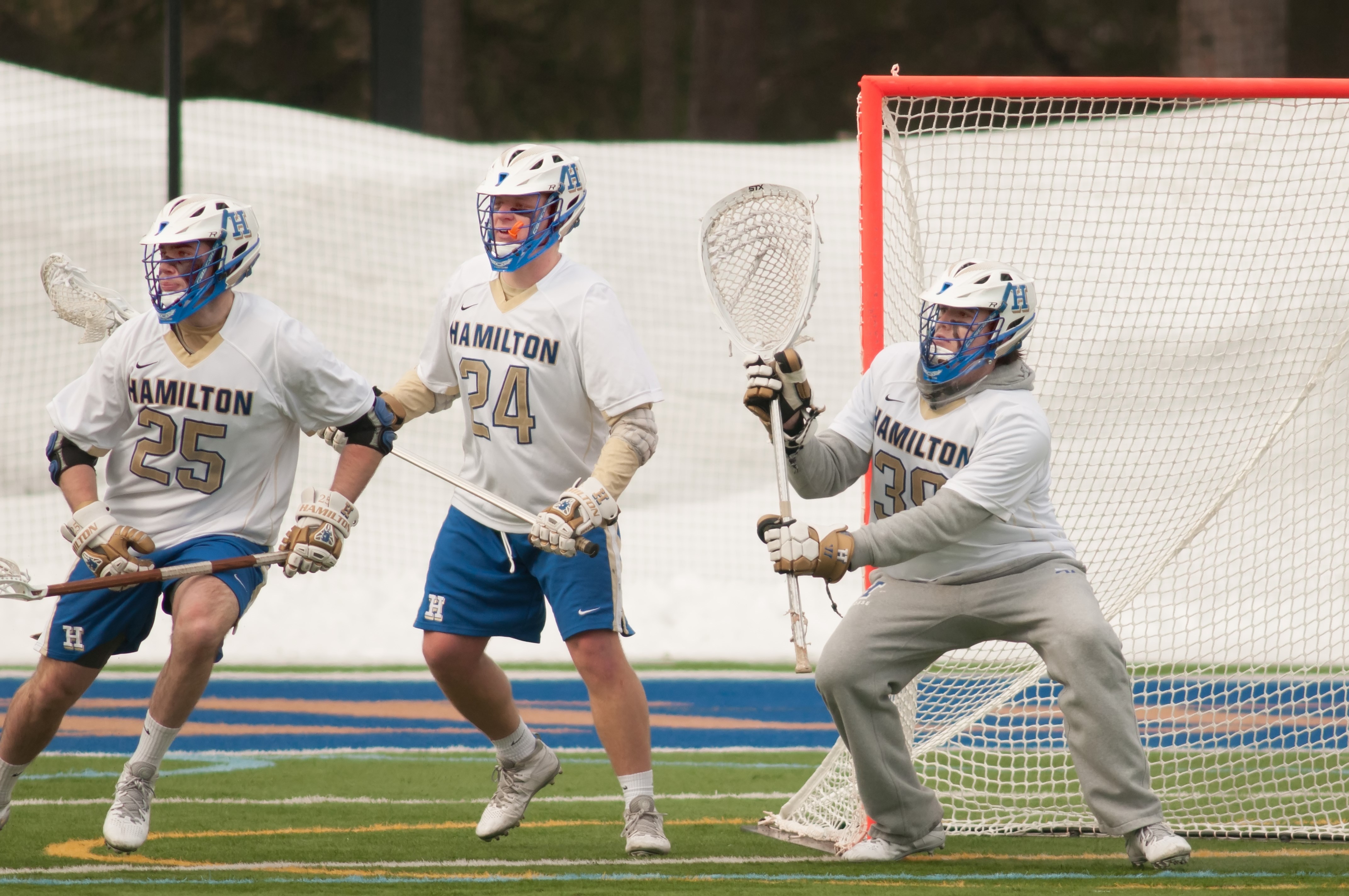 Tufts University's Cole Bailey scored three goals and assisted on six others, and the nationally ranked No. 1 Jumbos cruised to a 25-6 NESCAC win against the Hamilton College Continentals at Tufts' Bello Field on Saturday afternoon.

Box Score

The Jumbos (11-1, 7-1 NESCAC) lost their first game this year on Tuesday -- a 12-8 decision at home against Bates College. Tufts held a slim 4-3 lead against Hamilton midway through the first quarter but broke things wide open with seven straight goals for an 11-3 cushion with eight minutes left in the second. The Jumbos led 15-5 at the break.

Garrett Clarke scored five goals for Tufts, John Uppgren chipped in three goals and two assists and Ben Andreycak added three goals and one helper. Eleven other Jumbos recorded at least one point.

Conor Helfrich won 18 of 25 faceoffs and scooped up nine ground balls for Tufts. Jeff Chang caused three turnovers and Bailey added four ground balls. Alex Salazar started in goal and made five saves in three quarters. Brian Droesch stopped three shots in nearly seven minutes during the fourth quarter.

J.D. Brachman '17 paced the Continentals' offense with two goals. Connor Morgan '15 tallied one goal and one assist, and Sam Sweet '16, Pax Anthos '15 and Jack O'Brien '15 scored one goal each. Dan Cahill '17 and Trip Connors '17 were credited with one helper apiece.

Eric Zurmuehle '18 won 10 faceoffs and picked up eight ground balls for Hamilton (8-5, 4-5). Dylan Lahey '15 collected three ground balls. Will Driscoll '15 started in goal and made 16 saves in 45 minutes. John Schisler '17 stopped six shots in the fourth quarter.

Tufts jumped out to a 4-0 lead in the opening 5:34 with Uppgren tallying a goal and an assist. Hamilton came back with goals by Anthos, Sweet and Morgan in just 49 seconds. That made it 4-3 with 7:45 to go in the first.

The Jumbos put the game away by halftime, scoring 11 of the next 13 goals for a 15-5 advantage at the break. Bailey, who played only in the first half against Bates, had two goals and three assists during the game-changing stretch. Clarke scored four goals during the run.

Tufts led 21-5 after the Jumbos outscored the Continentals 6-0 in the third quarter. Bailey had a goal and two assists, and Uppgren and Zach Richman scored two goals apiece in the quarter.

Tufts pushed the advantage to 25-5 in the fourth quarter with one goal and one assist by Frank Hattler and two helpers from Griffin Johnson. Colby Kempe and Nico Pollack scored the last goals for the Jumbos before O'Brien stopped Tufts' 12-goal run on a goal with 32 seconds left.

Hamilton hosts Connecticut College for another NESCAC game on Saturday, April 18, at 1 p.m.