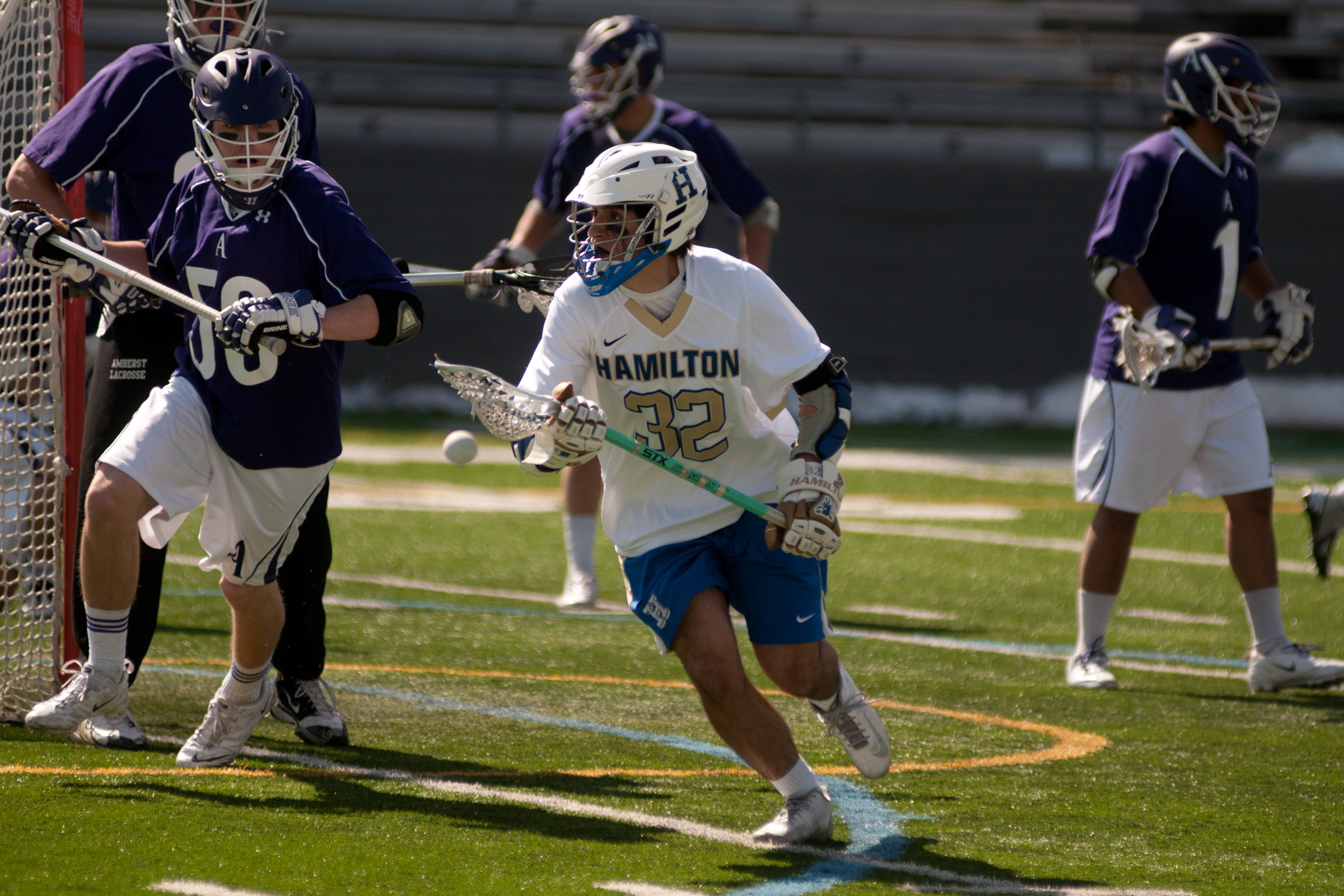 The Hamilton College men's lacrosse team won its third straight game on Wednesday evening, posting an 11-6 non-conference win over Utica College at Utica's Gaetano Stadium. The Continentals (3-1) scored seven times in the last 17 minutes to break a 4-4 tie.

Box score

Hamilton took the lead for good with 2:11 left in the third quarter on a goal by Brian Bauersfeld '15, then outscored the Pioneers 6-2 in the final period.

Sam Sweet '16 scored twice in the fourth quarter and finished with a team-best five points on three goals and two assists.

J.D. Brachman '17 added a pair of goals and John Zimmerman '15 assisted on two Continental scores.

Hamilton took a one-goal lead three times in the first half, then went up 4-2 in the last minute of the second quarter on Brachman's second goal of the game and sixth of the season.

Utica (1-2) scored twice in the first 3:14 of the second half. Tom Byrne '15 and Zack Stevenson '15 picked up goals to tie the score at four and the Pioneers held Hamilton scoreless for almost 13 minutes before Bauersfeld netted his first goal of the year.

Joe Ricciuti '16 and Pat Donahoe '16 scored in a 2:12 span to open the final period. After Patrick Mulligan '16 notched his second goal to pull Utica to within 7-5, Sweet scored twice and Nate Weinrauch '17 and Matt Hrvatin '15 scored man-up goals to put the game away for the Continentals.

Hamilton scored a season-high three man-up goals and held the Pioneers scoreless on their only extra-man opportunity. The Continentals have allowed just one man-up goal in 10 tries this spring.

Sellers Garrett '16 led Hamilton with five ground balls and was one of three Continentals to cause a pair of turnovers along with Sean Spasoff '17 and Sweet. Nick Ogden '15 finished with four ground balls and Eric Zurmuehle '18 added three. Zurmuehle had Hamilton's best performance of the season at the X, winning nine of 14 faceoffs.

Will Driscoll '15 made nine saves, including seven in the opening quarter, for Hamilton. The Continentals outshot the hosts 40-24.

Liam Wheatley '16 paced Utica's offense with a goal and two assists. Matthew Miller '17 scored twice and Alex Finnegan '16 assisted on a pair of goals.

Byrne led the Pioneers with five ground balls. Andrew DiOrio '15 picked up four and made 10 saves in goal.

The Continentals, who are fifth among the 16 teams "also receiving votes" in this week's Division III Top 20 coaches poll, return to NESCAC play on Saturday, March 14, with a 1 p.m. game at Bowdoin College. Utica hosts SUNY Potsdam on Saturday.