Men's lacrosse edges Middlebury for first NESCAC win
---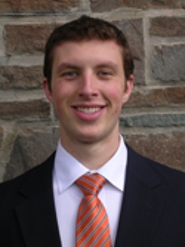 Max Vaickus '12 stopped 14 shots in goal to lead Hamilton College to a 7-6 win over Middlebury College in a NESCAC game at Hamilton's Steuben Field on March 28.

Hamilton (2-4 overall, 1-4 NESCAC) picked up its first NESCAC win. The Continentals competed in the Liberty League for lacrosse from 1996 to 2011. It was Hamilton's first win over Middlebury since 1958. The Panthers had won 16 straight games in the series, including 28-3 in the last meeting in 1980.

Jon Leanos '12 posted two goals and one assist for Hamilton. Leanos leads the team with 14 goals and 21 points. Henry Burchenal '12 added two goals, including the game-winner with 9:09 to play. Luke Sadoff '12 notched a goal and an assist, and John Zimmerman '15 and Connor Morgan '15 scored the other two goals. Bryan Hopper '14 picked up two assists.

Paul Armideo '13, Chad Berger '14 and Ed Reed '13 each scooped up five ground balls, and Paul Citarella '12 won seven faceoffs.

Tim Cahill '12 paced the Panthers offensively with two goals. Erich Pfeffer '13 posted one goal and one assist, and Stew Kerr '13, Andrew Metros '13 and Bryan Ayers '14 scored one goal apiece. Bucky Pierce '14 was credited with an assist.

Darric White '14 picked up a game-high seven ground balls, and Brian Foster '13 won 10 of 16 faceoffs. Nate Gaudio '14 stopped 13 shots.

Hamilton scored the first five goals and held a 5-0 lead with 9:43 left in the second quarter. Leanos scored his first goal at 13:44 of the first quarter off an assist from Hopper, and tallied his second with 5:24 remaining in the quarter off a feed from Sadoff. The Continentals led 2-0 at the end of the first.

In the second quarter, Morgan and Burchenal sandwiched a pair of man-up goals around a score by Sadoff to give Hamilton a five-goal advantage. Kerr found the back of the net with 2:39 left in the second to pull Middlebury within 5-1 heading into halftime.

The Panthers (2-4, 2-2) roared back in the second half, scoring five of the next six goals to tie the score at 6. Pfeffer scored with 13:45 left in the third quarter, and Ayers netted a goal just 35 seconds later to pull Middlebury within 5-3. Metros' goal with 2:23 left in the quarter cut the deficit to one. But Zimmerman found the back of the net with 18 seconds remaining in the third to give the Continentals a 6-4 lead heading into the fourth quarter.

Cahill scored a goal at 13:56 of the fourth, and another with 10:14 to play to tie the score for the first time. Burchenal gave Hamilton the lead for good with his 11th goal. After a Middlebury turnover with 2:09 to play, the Continentals maintained possession for the next 2:08 to seal the victory.

Hamilton held a 40-37 shot advantage, and scooped up 42 ground balls to Middlebury's 31. The Continentals were 2-for-4 with the extra man, while the Panthers were 1-for-3. Middlebury lost its third straight game.

Hamilton travels to nationally ranked No. 3 Amherst College for a NESCAC game on Saturday, March 31, at 1 p.m.