Men's lacrosse players honored by Liberty League
---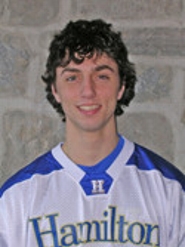 Four Hamilton College men's lacrosse players were honored by the Liberty League on April 30 when the league announced its end-of-season awards.
Jon Leanos '12 (Long Valley, N.J./Delbarton School) was selected the 2009 Rookie of the Year and made the honorable mention list. Franke Holiber '10 (Chappaqua, N.Y./Horace Greeley HS) and Tim Cohan '09 (Darien, Conn./Darien HS) were voted to the Second Team, and Rob Dickson '10 (Darien, Conn./Brunswick School) made honorable mention.
Leanos led all league rookies with 1.55 assists per game and 2.55 points per game from his attack position. He ranked third overall in the league in assists per game and ninth in points per game. He scored 11 goals and picked up 28 ground balls, and was a two-time league Rookie of the Week selection. He played in 11 of 13 games and started all 11.
Holiber led Hamilton with 13 goals and added five assists. The midfielder, who started all 13 games, also scooped up 14 ground balls. He was second on the team in points behind Leanos.
Cohan made the all-league team as a long-stick midfielder. He tied for the team lead with 32 ground balls and played in 12 games.
Dickson played in and started 12 of 13 games on defense. He recorded 15 ground balls for a defense that allowed 10.05 goals per game.