Men's lacrosse posts first league win
---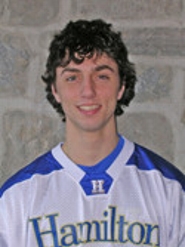 Hamilton College scored six straight goals in the third quarter and the Continentals pulled away for an 11-3 Liberty League win against visiting Vassar College in wintry conditions at Campus Road Athletic Field on April 4.
The Continentals (3-5 overall, 1-1 Liberty) halted a five-game losing skid. Hamilton has never lost to Vassar (3-6, 0-3) in 11 meetings.
Jon Leanos '12 was credited with a team-high four assists in the win. Leanos leads the Continentals with 13 assists and 23 points. He also tallied a goal and is tied for first on the team with 10. Austin Deyo '09, Peter Gerrity '09 and Stephen Lefebvre '11 tallied two goals each in the win.
Tim Cohan '09 picked up a game-high seven ground balls, and Paul Citarella '12 won 10-of-12 faceoffs and picked up five ground balls.
Max Akuamoah-Boateng '09 opened the scoring for the hosts with 1:26 to go in the first quarter. Franke Holiber '10 followed suit with the help of Leanos for a 2-0 lead just 45 seconds later. The Continentals scored two more goals in the second quarter before Vassar got on the board with 5:02 to go. Hamilton took a 4-1 lead into the break.
Hamilton broke the game open with the first six goals of the third quarter. Gerrity and Lefebrve each scored twice in the spurt. Vassar slipped in two goals before Henry Burchenal '12 closed out the scoring with 8:39 to go in the fourth for the 11-3 win.
Hamilton enjoyed a 40-15 advantage in shots and a 42-22 lead in ground balls. The Continentals won 12 of the game's 18 faceoffs.
Max Vaickus '12 started in net for Hamilton and picked up the win with three saves in 37 minutes. Garrett Akie '12 took over for the next 17:40 and was credited with two stops. Chase Uhlein '12 played the remaining 5:20 and stopped the only shot he faced.
Hamilton travels to Union College on Wednesday, April 8, for another league game.