Men's lacrosse rallies for overtime win against Williams
---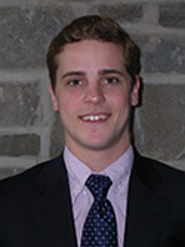 Hamilton College's Bryan Hopper '14 scored with 14.6 seconds left in the first sudden-victory overtime period and the Continentals rallied for an 8-7 NESCAC victory over Williams College at Hamilton's Steuben Field on April 16.

The Continentals (7-5 overall, 4-5 NESCAC) trailed 7-5 with just under six minutes to go in the fourth quarter. Sam Sweet '16 and Pax Anthos '14 tied the score with goals 44 seconds apart and forced the extra period. Williams turned the ball over four times and took just one shot in the final five minutes of the fourth quarter and in the overtime period.

Hamilton has won six of the last seven meetings with the Ephs dating back to 2001, including a three-overtime thriller at Williams last year. The Continentals are 5-1 at home and have won three straight games overall.

Sweet led the Hamilton offense with a career-high three goals and added an assist. Hopper chipped in two goals and John Zimmerman '13 had three assists. Anthos, Luke Walsh '13 and Nate Menninger '16 scored one goal each.

Menninger won five faceoffs and picked up a game-high six ground balls. Dylan Lahey '15 caused three turnovers and Will Driscoll '15 made six saves and scooped up four ground balls.

Colton Growney '13 notched two goals and one assist, and Steven Kiesel '15 also scored two goals for the Ephs. Evan Dedominicis '13 finished with one goal and one assist. Andy Grabowski '15 and Conor Roddy '16 tallied one goal apiece. David Lee '14 won 13 of 19 faceoffs and tied Tucker Dayton '14 for the team lead with four ground balls. Dan Whittam '15 turned away 10 shots in goal.

Williams (5-6, 3-5) led 3-1 after one quarter and 5-2 at the half. Dedominicis scored from Growney 3:34 into the first quarter and Luke Walsh tied things up on a man-up goal off a feed from Sweet with 10:51 left in the quarter. Dedominicis assisted on a goal by Grabowski with 5:38 left in the first, and Roddy tallied an unassisted goal 77 seconds later.

The teams combined to score three goals in a 48-second span midway through the second quarter. Kiesel extended Williams' lead to 4-1 with 8:45 left in the half, Hopper cut Hamilton's deficit in half 30 seconds later and Growney pushed the Ephs' lead back to three with 7:57 remaining in the quarter.

Williams took its largest lead 55 seconds into the third quarter when Kiesel's 11th goal this year made it 6-2. Hamilton chipped away and pulled within 6-5 by the end of the quarter. Menninger scored his fifth goal with 6:55 left in the third after he was knocked over in front of the crease, then popped back up and fired a shot by Whittam. Zimmerman found Sweet twice late in the third and the second goal was scored with 3.2 seconds left on the clock.

Growney opened the scoring in the fourth quarter on his 16th goal with 10:29 remaining during a man-up opportunity, and Williams' lead was back up to 7-5. But Driscoll didn't allow another goal and had to make just one save down the stretch. Sweet scored his sixth this year in a man-up situation with 5:56 left and Anthos notched his 10th with 5:12 to go.

Hamilton enjoyed a 42-31 shot advantage, including 23-11 after halftime, and committed just 10 turnovers. The hosts went 2-for-2 with the extra-man and limited the Ephs to 1-for-3. The Continentals entered the week ranked 17th in man-down defense at 84.6 percent.

Hamilton wraps up NESCAC play at Trinity College on Saturday, April 20. Williams hosts Amherst College for another conference game on Saturday.