Men's lacrosse routs Wells College
---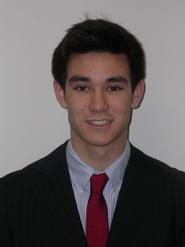 Simon Lai '13 led Hamilton College with three goals and two assists in a 21-2 win over Wells College in a non-league game played under the lights at Hamilton's Campus Road Athletic Field on April 27.
The 21 goals are the most for the Continentals since they defeated the University of New England, 23-3, on March 13, 2007. Thirteen Hamilton players scored at least one goal against Wells.

Chris Whelan '13 and Alex Paganelli '12 each tallied three goals and one assist. Paul Armideo '13 and James Hohm '12 contributed two goals apiece. Paul Citarella '12 scored one goal and earned a game-high three assists. Citarella won all five of the faceoffs he took.
Garrett Akie '12 played the first half in goal, allowed one goal and stopped five shots. Max Vaickus '12 relieved Akie at the start of the third quarter, allowed one goal and tallied six saves. Matt Hill '13 scored his first goal and earned his first assist as a Continental. Hill tied a team-high with eight ground balls, and won 10 of 11 faceoffs.
David Goldstein '13 also picked up eight ground balls and Jared Palmer '13 recorded seven ground balls. Henry Burchenal '12 and John Ogden '13 each scored one goal and earned one assist. Landrey Mack '11 won 9 of 11 faceoffs.
Hamilton (10-3 overall) scored the first six goals and never looked back. Armideo started the scoring just seven seconds into the game, and added another at the 13:10 mark. Luke Sadoff '12 scored his ninth goal of the season and Franke Holiber '10 tallied his 11th goal during the run. Wells (2-11) scored its first goal with 26 seconds remaining in the first quarter.
The Continentals scored the next 10 goals in a run that spanned the second and third quarters, including two man-down goals. McCullough Shriver '13 started the run with 10:55 left in the second. James Forrey '13 scored his second goal of the season, and Lai found the back of the net twice during the run.
Wells opened the fourth quarter with a man-up goal 1:14 in to make it 16-2. Hamilton closed out the quarter with five more goals for the final margin. Lai scored his third goal with 4:59 remaining off an assist from Alex Thompson '13.
The Continentals dominated, taking 51 shots to Wells' 19. Hamilton also enjoyed a 60-29 advantage in ground balls, and won 24 of 27 faceoffs.
The Continentals host St. Lawrence University for their final Liberty League game of the regular season on Saturday, May 1. If Hamilton wins, the Continentals will play in the league tournament for the first time since 2006.