Men's lacrosse selects assistant coach
---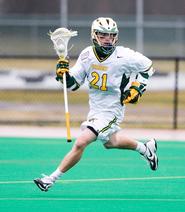 Andrew Kelleher, who was a four-year letter winner at the University of Vermont, has been selected to be the top assistant men's lacrosse coach in 2009-10 by Hamilton College head coach Scott Barnard.
Kelleher was voted the America East conference Fan's Choice Player of the Year and was named the team's most valuable player in 2009. He finished the season with 36 goals and nine assists for 45 points, and picked up 36 ground balls.
Kelleher ended up with 65 career goals, 20 assists and 85 ground balls. As a freshman in 2006, he helped Vermont post an overall record of 9-6 as he scored eight goals and assisted on four others.
Kelleher earned a New England Intercollegiate Lacrosse Association Scholar-Athlete award in 2009. The award is given to senior athletes who excel on the field and boast a cumulative grade point average of 3.0 or better. He also made the America East Academic Honor Roll in 2008.
Kelleher was a volunteer assistant coach for the Burlington High School boys' lacrosse team in 2009. He graduated in 2009 with a bachelor's degree in movement and exercise science. Kelleher attended Bethlehem High School in Delmar, N.Y.