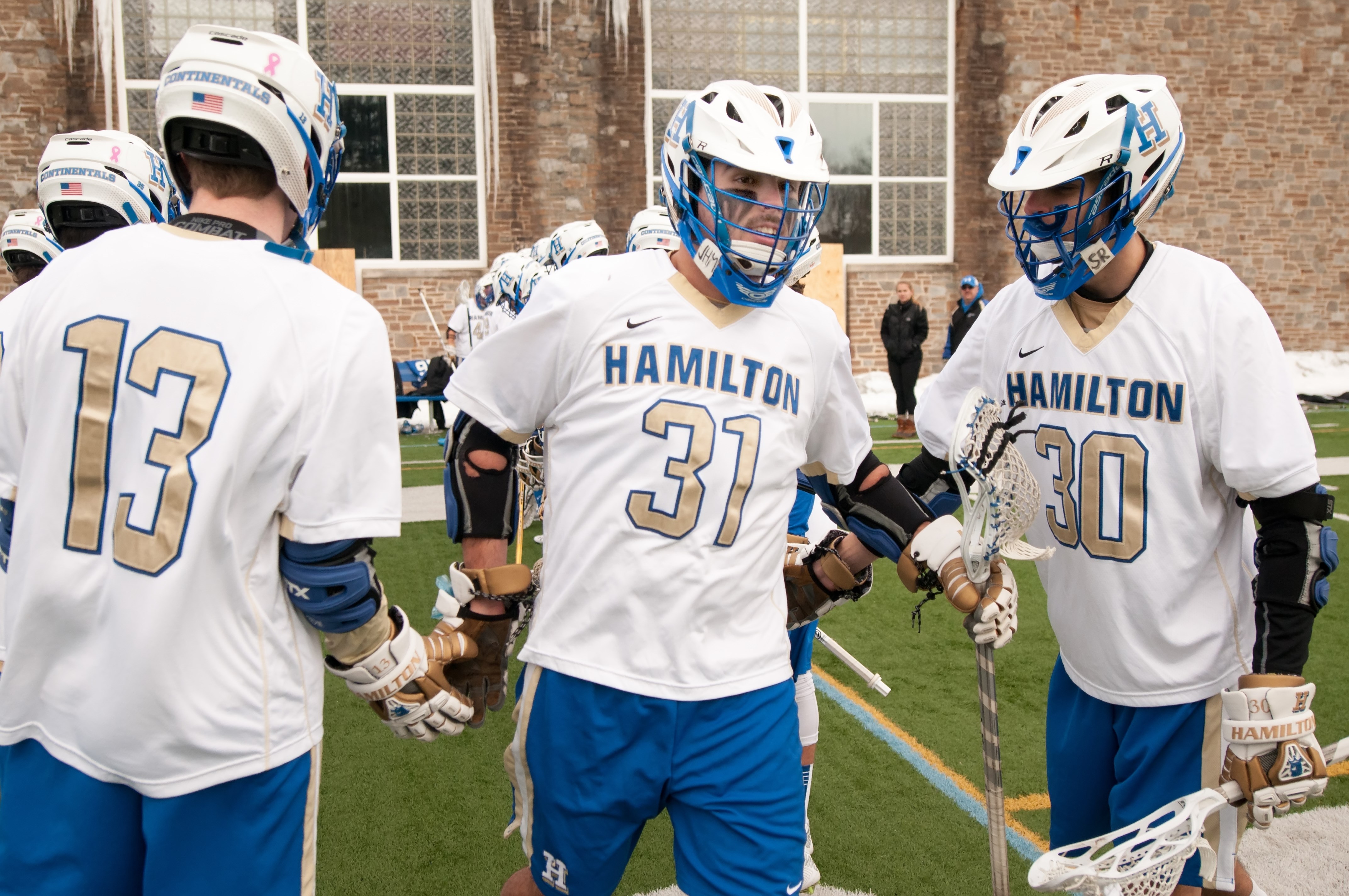 The Hamilton College men's lacrosse team improved its record to 5-2 with a 17-10 non-conference win over Keene State College on Thursday afternoon in Davenport, Fla. The Continentals scored eight of the last nine goals over the final 20 minutes.

Box score

Pax Anthos '15 led Hamilton with a career-best four goals and J.D. Brachman '17, Matt Hrvatin '15 and Sam Sweet '16 each netted two goals in the decisive 8-1 run. The Continentals are off to their best start since 2011.

The Owls (3-3 overall) used a 5-2 burst over 20 minutes that spanned both halves to turn a 7-4 deficit into a 9-9 tie. Sweet scored a pair of unassisted goals 1:39 apart and finished the game with three. He leads the team with 16 goals this spring.

After Keene State scored with 73 seconds left in the third quarter to pull to within a goal, the Continentals blew the game open by outscoring the Owls 6-0 in the fourth.

Will Driscoll '15 made 17 saves and was credited with a career-best 11 ground balls for Hamilton. Trip Connors '17 and Eric Zurmuehle '18, who combined to win 19 of 29 faceoffs, picked up a total of 16 ground balls, helping Hamilton to a 52-33 advantage.

Ryan Hart '15 and Hunter Arnold '18 both finished with three goals and an assist for the Owls, who are sixth among the others receiving votes in the latest U.S. Intercollegiate Lacrosse Association Division III Top 20 coaches poll.

Tyler McKelvie '16, who assisted on Hart's goal that tied the score at 9-9 and scored Keene State's final goal, had two goals and two assists. James Dowd '15 collected a team-leading six ground balls and Mike Curley '15 caused three turnovers.

Dylan Florian '16 made three saves over the game's first 28:33 before Alex Sharp stopped four shots over the rest of the game.

John Zimmerman '15 finished with a goal and two assists, raising his career total to 96 points. Jack Gaul '18 scored the first two goals of his career and Dan Cahill '17 had a personal-best two assists.

The Continentals return to NESCAC action on Saturday, March 21, with a noon game against nationally ranked No. 6 Amherst College in Davenport. The Owls are idle until hosting Bates College on Wednesday.