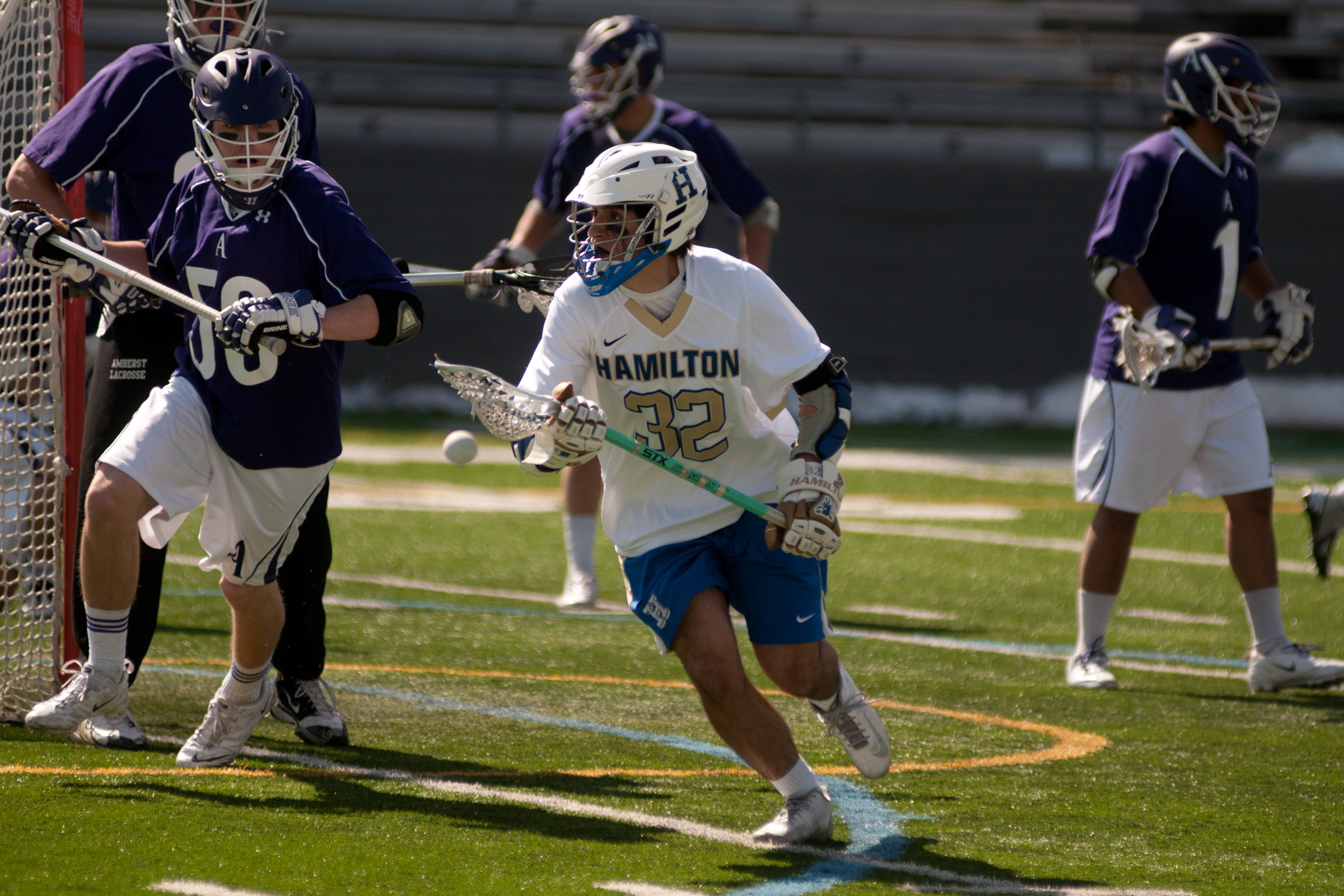 The Hamilton College Continentals split two spring break games during the weekend in Davenport, Fla.

The Continentals (3-5, 0-4 NESCAC) dropped a 9-8 decision to the Amherst College Lord Jeffs in NESCAC play on Friday afternoon and defeated the Keene State College Owls 12-10 in a non-conference clash on Sunday afternoon. The loss was Hamilton's fourth one-goal defeat this season.

Against the Lord Jeffs, Hamilton rallied from a 9-3 deficit with five goals in a span of 6:27 in the fourth quarter and pulled within a goal with 3:52 left.

After Bryan Hopper '14 scored his third goal to cap the Continentals' comeback, Amherst won the ensuing faceoff and maintained possession for nearly 90 seconds. The Continentals got the ball back when Will Driscoll '15 saved a shot by Sam Lawlor '16. Hopper had the final shot at tying the score with 54 seconds remaining, but his shot was saved by Greg Majno '14 and the Lord Jeffs cleared the ball and ran out the clock.

Hopper and Connor Morgan '15 sparked Hamilton's late run. Morgan notched three straight goals, giving him 18 on the year, over a 2:33 stretch. Hopper followed with goals on consecutive possessions. Pat Donahoe '16 assisted on Hopper's last two goals.

Driscoll made a career-best 21 saves and led Hamilton with five ground balls. Matt Hermann '17 and Dylan Lahey '15 picked up four ground balls apiece.

Quinn Moroney '16 led Amherst with five points (four goals and an assist) and seven ground balls and Kane Haffey '16 added three points, including a pair of goals. Amherst's Johno Gibbons '15 matched Moroney with seven ground balls and won 14 of 19 faceoffs. Majno made 11 saves.

Hopper and John Zimmerman '15 put Hamilton up 2-0 before the Lord Jeffs reeled off six straight scores. J.D. Brachman '17, who finished with a goal and an assist, stopped Amherst's run with his fourth goal and Hamilton went into halftime trailing 6-3.

Zimmerman led the Continentals in their win over the Owls, collecting five points on a goal and four assists. Brachman, Donahoe, Morgan, Matt Hrvatin '15 and Joe Ricciuti '16 had two goals each.

Trip Connors '17 won 14 of 23 faceoffs for the Continentals, who held Keene State scoreless in the third quarter on their way to an 11-4 lead heading into the fourth. Driscoll made nine saves during the first three quarters and Barrett Meister '14 stopped four more in the fourth.

Hamilton returns to Steuben Field to host Bates College for a NESCAC game on Saturday, March 29, at noon.