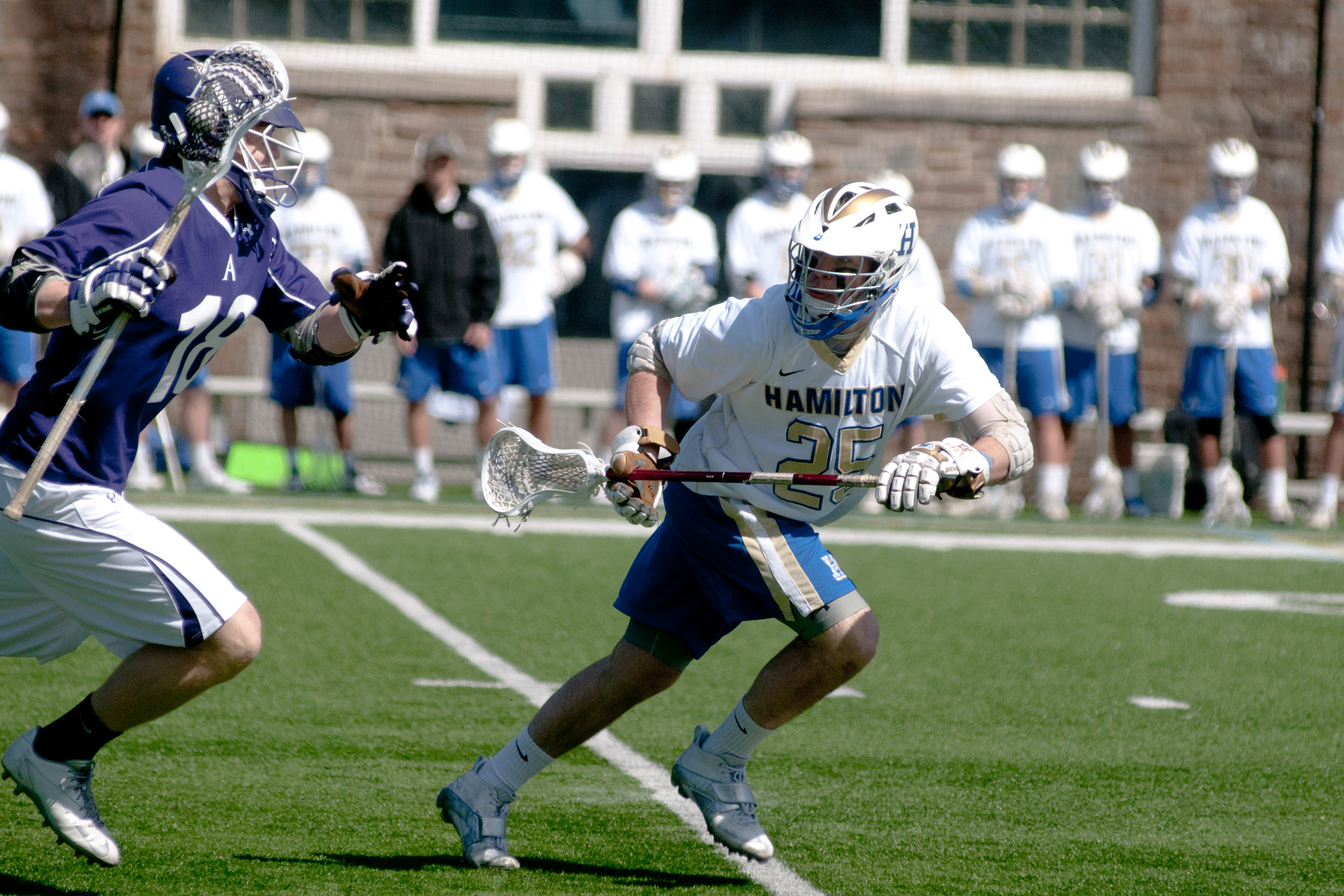 The Hamilton College men's lacrosse team picked up its first NESCAC win of the season, topping visiting Colby College 12-10 on Saturday afternoon at Steuben Field. The Continentals rallied from a second-quarter deficit, taking control with a 5-0 run to close out the half.

Box score

Sam Sweet '16 had five points, including an assist on the go-ahead goal by Matt Hrvatin '15 that stood up as the game winner.

The Continentals (2-1, 1-1 NESCAC) followed Hrvatin's goal by scoring three more times in the final 2:37 before intermission. John Zimmerman '15 scored his fourth of the game to give Hamilton a two-goal lead and Joe Ricciuti '16 and J.D. Brachman '17 added goals in the final minute.

The Mules (1-1, 1-1) held Hamilton scoreless in the third quarter and pulled to within a goal 1:19 into the fourth when Alex Rutan '16 scored his second goal of the game. The Continentals pushed their lead back to three goals with a pair of scores 44 seconds apart – Pax Anthos '15 scored the first goal and fed Sweet for the second – and Colby got no closer.

Hamilton's Will Driscoll '15 made 20 saves – one short of his career best – and had 13 in the first half alone. The Mules outshot Hamilton 49-30 with a 27-17 advantage in the first half.

John Grimaldi '15 led Colby with three goals and an assist. He collected his second goal in the middle of the Mules' 3-0 run that culminated with Rutan's second goal, closing the Continental lead to 9-8. He scored his third goal of the day 4:42 into the final quarter and assisted on a goal by Mark Phillips '15 that closed out the scoring with 3:20 remaining.

The Mules had three more possessions after Phillips' goal pulled them to within 12-10 but Driscoll recorded two saves and Hamilton's Dan Cahill '17 forced a Colby turnover and picked up the ground ball, allowing the Continentals to hold the ball for nearly a minute.

Nick Ogden '15 led Hamilton with a career-high four caused turnovers and matched a personal best with three ground balls. Sweet, Zimmerman and Dylan Lahey '15, who added a pair of caused turnovers, led the Continentals with five ground balls apiece.

Hamilton's defense held Derek Youngman '15 – the reigning NESCAC Player of the Week – to a goal and an assist on six shots. Austin Sayre'17 also recorded a goal and an assist for the Mules.

Austin Frank '17, who won 14 of the game's 25 faceoffs, led all players with six ground balls. Kenny Jacobson '16 contributed four ground balls and a team-leading four caused turnovers. Tyler Will '15 made 10 saves for the Mules.

Brachman recorded his second straight two-goal game. Trip Connors '17 opened the scoring with his first goal at Hamilton.

The Continentals play a non-league game at Utica College on Wednesday, March 11, at 5 p.m. Colby hosts Maine Maritime Academy in non-conference action on Wednesday afternoon.