Men's lacrosse tops SUNY Oneonta
---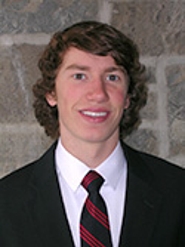 Hamilton College's John Zimmerman '15 tallied five points on three goals and two assists, and the Continentals picked up an 11-7 non-conference win over SUNY Oneonta at Hamilton's Steuben Field on April 2.

The Continentals (4-4 overall) won their fourth straight game against Oneonta. Hamilton leads the all-time series, 23-9.

Pax Anthos '14 added two goals and Luke Walsh '13 recorded one goal and two assists for Hamilton. Pat Donahoe '16 chipped in one goal and one assist. Sam Sweet '16, McCullough Shriver '13, Chris Whelan '13 and Matt Hrvatin '15 scored one goal each.

Nate Menninger '16 won 9 of 15 faceoffs and grabbed a team-high seven ground balls for the Continentals. Ed Reed '13 and Claeson Dillon '14 caused two turnovers apiece. Will Driscoll '15 started in goal and made two saves in the first half. Barrett Meister '14 relieved Driscoll and made seven saves in the final 30 minutes.

Jim van de Veerdonk '13 led the Red Dragons with two goals, one assist and seven ground balls, and won 10 of 20 faceoffs. Devon Casey '16 tacked on two goals and Connor Coyle '16, Nick Sorrillo '13 and Alex Haffner '13 added one goal each. Terence White '14 and Jimmy Reiser '15 finished with one assist apiece. Scott Sorrillo '13 caused three turnovers and Joe Checco '14 and White had two apiece. Chris Miles '13 turned away 18 shots in goal.

Hamilton jumped out to a 1-0 lead 3 minutes, 27 seconds into the first quarter on Walsh's unassisted tally. Van de Veerdonk responded with a goal 77 seconds later that evened the score. The Continentals reclaimed the lead for good with 5:45 remaining in the period. Donahoe found Zimmerman in front of the net for a goal that started a 5-0 run. Hamilton led 2-1 after one quarter.

The Continentals held on to their one-goal lead until Hrvatin scored with 6:52 left in the second quarter. Whelan extended the lead to 4-1 just 84 seconds later after he received a pass from Zimmerman. Hamilton took a 6-1 lead into the break as Walsh assisted on two goals in the final 2:48. Walsh sent a pass to Anthos for the first score, and set up Zimmerman's man-up goal with 7.1 seconds left in the half.

Oneonta (2-7) came out firing in the second half and cut its deficit to 6-4 by scoring the first three goals. Haffner slipped a shot by Meister 3:21 into the third quarter and Nick Sorrillo scored on a pass from White that made it 6-3. Van de Veerdonk's second marker with 3:50 left in the third made it a two-goal game.

The Continentals rattled off the next four goals and took their largest lead of the afternoon at 10-4. Zimmerman set up Sweet for a goal with 1:42 to go in the third, and Hamilton led 7-4 after three. Anthos and Zimmerman scored just 22 seconds apart early in the fourth quarter, and Donahoe sent a shot by Mills with 7:39 left.

The Red Dragons notched two quick goals and pulled within 10-6 with 6:43 remaining. Van de Veerdonk won the ensuing faceoff after the Continentals' 10th goal and passed to Coyle for a goal with 7:21 left. Van de Veerdonk won the next faceoff again and Casey scored 38 seconds later. Shriver tallied a goal for the Continentals with 1:49 left, and Casey rounded out the scoring 23 seconds after Shriver's tally.

Hamilton enjoyed a 52-31 shot advantage and committed just 14 turnovers. Oneonta turned it over 23 times, including 16 in the first half.

The Continentals hit the road for a NESCAC game at Bates College on Saturday, April 6. Oneonta returns home for a matchup with nationally ranked No. 1 SUNY Cortland on Saturday.