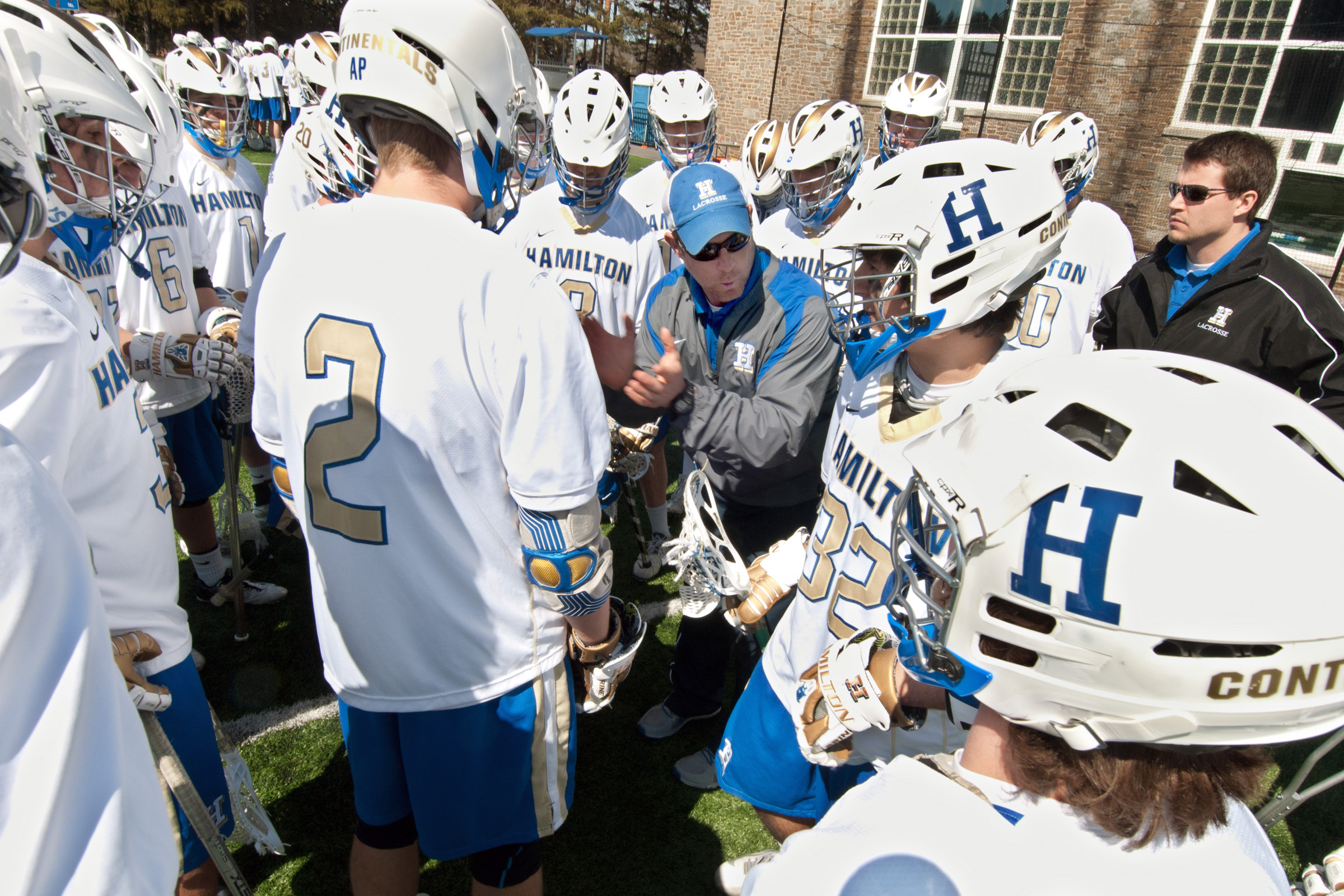 The Hamilton College Continentals dropped an 11-4 decision against the Bates College Bobcats in NESCAC action at Hamilton's Steuben Field on Saturday afternoon.

Box Score

The Bobcats (4-4, 1-4 NESCAC), who won their third game in four tries, held the Continentals scoreless for a stretch of 29:50, including the first 28:14 of the second half.

Hamilton (3-6, 0-5) had cut Bates' 5-1 lead to 5-3 with a pair of late second-quarter goals. Casey Kopp '17 scored his first career goal with 79 seconds left in the half and Connor Morgan '15 scored his team-leading 21st goal on the Continentals' next possession off an assist from Paul Armideo '14.

The Bobcats won the second half faceoff and maintained nearly continuous possession for the first six minutes. They scored twice in that span and held Hamilton out of the Bates zone until the 8:30 mark, thanks in part to a ride that limited Hamilton to nine clears in 16 attempts for the entire game.

Jack Strain '15 led Bates with five goals and Jack Allard '16 contributed a goal and four assists. The Bobcats scored twice in the opening 2:04 with Evan Chen putting them up 1-0 just 71 seconds in and Strain following 53 seconds later.

After the Continentals closed to 2-1 on a first-quarter goal by Bryan Hopper '14, Kyle Weber '17 converted Bates' first possession of the second quarter for his seventh goal. Allard then fed Strain and Andrew Melvin '17 for goals that put the Bobcats up 5-1.

Bates' second-half dominance was sparked by Allard and Joe Faria '16. Allard scored 10 seconds into the fourth quarter and assisted on two more goals, and Faria entered the Bobcat net to start the third quarter and made seven saves. He held Hamilton scoreless until J.D. Brachman '17 picked up his seventh goal with 1:26 left.

Ken O'Friel '16 paced Bates' defense, leading all players with eight ground balls and six caused turnovers. Strain and Allard picked up four and three ground balls, respectively, and helped the Bobcats to a 42-30 advantage. Charlie Hildebrand '16 assisted on a pair of third-quarter goals and Weber finished with two goals. Charlie Kazarian '14 earned the win with three first-half saves.

Trip Connors '17 led Hamilton with seven ground balls and won 10 of 16 faceoffs. Claeson Dillon '14, Will Driscoll '15 and John Zimmerman '15 had three ground balls each, and Driscoll finished with 11 saves.

The Continentals' three-game homestand continues on Wednesday, April 2, with a NESCAC game against Middlebury College at 4 p.m. The Bobcats host NESCAC rival Bowdoin College on Wednesday night.