Men's lacrosse upsets No. 3 Amherst
---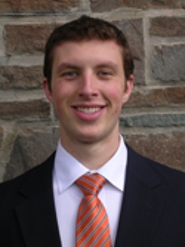 Max Vaickus '12 stopped 11 shots, including all five he faced in the second half, to lead Hamilton College to a 12-6 upset win over nationally ranked No. 3 Amherst College in a NESCAC game at Amherst's Gooding Field on March 31.

Hamilton (3-4 overall, 2-4 NESCAC) defeated Amherst for the first time in three meetings. The Lord Jeffs entered the week with a seven-game win streak. The Continentals' last win over a ranked opponent was a 9-8 victory against No. 11 Skidmore College on April 20, 2011.

Jon Leanos '12, Bryan Hopper '14 and Henry Burchenal '12 each tallied two goals and one assist. Leanos leads the team with 16 goals and 24 points. Luke Sadoff '12 chipped in a goal and two assists, and Paul Armideo '13 added two goals. Paul Citarella '12, Luke Walsh '13 and McCullough Shriver '13 each scored a goal.

Citarella won nine faceoffs and led the team with five ground balls. Armideo scooped up four ground balls, and Chad Berger '14 collected three to go with a pair of caused turnovers.

Aaron Mathias led the Lord Jeffs offensively with three goals. Devin Acton chipped in two goals and Cole Cherney added one. Alex Fox tallied two assists and Evan Redwood had one. Duncan Morrissey won 11 faceoffs and collected a game-high eight ground balls. Will Reed caused a pair of turnovers and Sam Jakimo made 10 saves.

Hamilton trailed 6-5 at the half, but did not allow a goal in the third and fourth quarters. Leanos tied the score with a man-up goal off an assist from Sadoff just 13 seconds into the third quarter. Burchenal gave the Continentals the lead for good at 8:20 of the third when he tallied his 13th goal off a feed from Hopper.

Hamilton won the ensuing faceoff and Citarella raced downfield and scored just seven seconds later to make it 8-6. Hopper, Leanos and Walsh each added unassisted tallies early in the fourth quarter. Shriver closed the scoring with his first goal with 4:16 to play.

The Continentals took a 2-0 lead with 8:53 left in the first quarter after Sadoff and Armideo found the back of the net. Mathias then cut Amherst's deficit to 2-1 with 7:02 remaining in the quarter. Hamilton struck back with a goal by Armideo off an assist from Leanos with 3:45 left. But Cherney scored with 1:15 on the clock, and Acton found the back of the net with 1 second remaining to tie the score at 3 after one quarter.

Sadoff found Hopper for a goal at 12:03 of the second to put the Continentals ahead 4-3. Acton's second goal at 11:23 of the quarter tied the score, and the Lord Jeffs took the lead on Mathias' man-up goal with 9:37 left. After Burchenal pulled Hamilton even with 3:57 remaining, Mathias again gave Amherst the lead with 2:49 to play in the half.

Amherst (7-2, 3-2) held a 36-34 shot advantage. Hamilton scooped up 31 ground balls to the Lord Jeffs' 29, and the Continentals committed just 11 turnovers. Hamilton was 1-for-3 with the extra man, while Amherst was 1-for-4.

Hamilton travels to SUNY Oneonta for a non-conference game on Wednesday, April 4, at 5 p.m.