Men's lacrosse wins fourth straight
---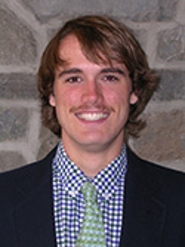 Hamilton College's Will Driscoll '15 made 14 saves and the Continentals defeated Trinity College 10-4 in a NESCAC game at Trinity's Jessee/Miller Field on April 20.

Hamilton (8-5 overall, 5-5 NESCAC) won its fourth straight game. The Continentals are tied for sixth place with Bates College in the NESCAC standings with no conference games remaining. The other 10 teams in the NESCAC all have one conference game to play. The top eight teams advance to the 2013 NESCAC Championship, which begins on Saturday, April 27, with the quarterfinals.

Drsicoll has a .591 save percentage and a 7.47 goals against average in 738-plus minutes this year. He allowed just one goal in the second half on Saturday.

Connor Morgan '15 led the Hamilton offense with three goals. Bryan Hopper '14 and Luke Walsh '13 chipped in two goals and two assists apiece. Pax Anthos '14, Paul Armideo '14 and Alan Baldwin '16 added one goal each. Baldwin's goal was his first for the Continentals. John Zimmerman '15 was credited with three assists and Joe Ricciuti '16 had one helper. Zimmerman leads the team with 17 assists and 32 points.

Nate Menninger '16 won 7 of 11 faceoffs, scooped up five ground balls and caused two turnovers for Hamilton. Dylan Lahey '15 recorded three ground balls and one caused turnover.

Matt Cohen scored two goals and Chase Growney posted a goal and an assist for the Bantams (4-10, 2-7). Matt Hauck tallied the other goal and Michael McQuiston added an assist. Dominic Piselli picked up three ground balls and caused a pair of turnovers. Tim Reichert won four faceoffs and collected three ground balls, and Makar Zaverucha stopped 10 shots.

Trinity got off to a strong start as Cohen rifled in a goal 47 seconds into the first quarter for a 1-0 lead. Walsh fed Hopper for the first of four connections between the duo and the score was tied 1-1 with 8:58 left in the first quarter.

Growney found Hauck in traffic from behind the net and gave Trinity a 2-1 lead 2:11 into the second quarter. But the Continentals scored the next four goals and took the lead for good. Morgan started the run with an unassisted tally, Walsh and Hopper assisted each other on consecutive goals and Morgan converted the first of Zimmerman's three feeds with 3:06 remaining in the second frame. Growney scored from McQuiston with 5 seconds left on the clock and the Bantams trailed 5-3 at the break.

Walsh scored from Hopper 1:16 into the third quarter and Morgan completed his hat trick with 1:51 left in the third for a 7-3 Hamilton lead. Cohen fired in another goal for the Bantams with 12:50 to go in the fourth quarter, but that was it for Trinity. The Continentals scored three times in the final seven minutes and won the ensuing faceoff after each goal.

The Continentals held a 38-30 shot advantage and won 10 of 16 faceoffs. Trinity, which lost its third game in a row, came away empty on four extra-man opportunities. Hamilton's opponents have scored just seven times in 46 man-up situations (15.2 percent).

The Continentals travel to local rival Utica College for their regular season finale on Wednesday, April 24.