Men's rower finishes fourth at African Championships
---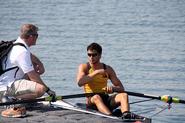 Hamilton College's Andre Matias '11 (Luanda, Angola/Blair Academy [N.J.]) finished fourth in the men's lightweight single "A" final at the seventh African Rowing Championships on Lake Tunis in Tunisia on July 3.
Matias crossed the finish line of the 2,000-meter course in 8 minutes, 51.65 seconds. He ended up 11.51 seconds out of third place. A Tunisian rower took first place, Egypt finished second and Algeria claimed third place. Cameroon followed Matias in fifth place and Morocco was sixth. The racing conditions were rough with rolling waves and a stiff quartering headwind. Temperatures were in the 90's.
Matias competes at the Under-23 World Championships in Brest, Belarus, later this month.