Men's rower to compete internationally
---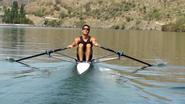 Hamilton College's Andre Matias '11 will represent the Republic of Angola in two international rowing competitions this July.
Matias competes at the 2010 African Rowing Championships in Tunisia under the lightweight single July 3 to July 6. Matias will have the opportunity to train with the Peruvian team in France. He will then compete at the 2010 Under-23 World Rowing Championships in Brest, Belarus, from July 22 to July 25. Matias will be considered for Olympic qualification at the Pan-African games next year in Mozambique in the lightweight men's double sculls.
Matias will continue to row under Hamilton head crew coach Eric Summers this summer. Matias and Summers will train out of the Syracuse boathouse during May and June, and partake in U.S. regattas in preparation for the summer racing.
In 2007, Matias participated in the lightweight single sculls category at the Pan-African Games. In 2009, he took part in the Under-23 World Rowing Championships. Matias finished third in the "E" finals of the lightweight men's single sculls.
Matias is a regular rower in the varsity eights at Hamilton. He is a three-year varsity letter winner.