Men's rowers compete at U.S. Collegiate National Championships
---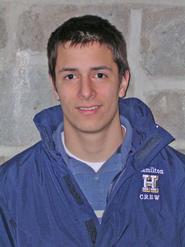 Hamilton College's Andre Matias '11 (Luanda, Angola/Blair Academy [N.J.]) and Chris Visentin '12 (Rhinebeck, N.Y./Kent School [Conn.]) competed at the U.S. Rowing Collegiate National Championships on Lake Mercer in West Windsor, N.J., on May 22 and 23.
The event is open to all undergraduate rowers -- varsity or club -- from all divisions, and offers events geared toward many of the same boat classes raced at the World Rowing Championships.
Matias captured first place in the collegiate lightweight single. He crossed the finish line with a time of 9:01.520. Matias paired up with Visentin to finish sixth in the collegiate pair. They recorded a time of 8:30.518.
Matias will represent the Republic of Angola at the 2010 African Rowing Championships in Tunisia under the lightweight single July 3 to July 6. Matias will have the opportunity to train with the Peruvian team in France. He will then compete at the 2010 Under-23 World Rowing Championships in Brest, Belarus, from July 22 to July 25.