Men's soccer defeats Clarkson in OT thriller
---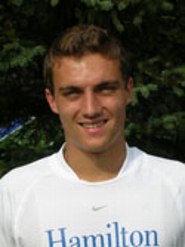 Hennie Bosman '13 scored with 5:43 left in the second sudden-victory overtime period to lift Hamilton College to a 3-2 win against Clarkson University in a Liberty League men's soccer game at Hamilton's Love Field on Oct. 23.

Hamilton (9-1-2 overall, 4-1-0 Liberty) clinched a spot in the league tournament with its sixth straight win. Clarkson (6-5-2, 1-4-0) is winless in its last four games.

The first four goals were scored in the first half. The Continentals claimed a 1-0 lead in the 21st minute on a goal by Anthony Balbo '13, who leads the team with nine. Jesse Arroyave '11 was credited with the assist.

Hamilton went up 2-0 in the 29th minute when Leo Nizzi '14 scored on a direct kick for his second goal this year. The Golden Knights roared back with two goals a little more than five minutes apart.

In the 34th minute, Nick Smith '14 had his shot carom off the post, but the rebound went to Tobin Boomer '12 and he buried the ball in the back of the net for his third goal. Mark Secko '11 tied the score in the 39th minute with his third goal. Elliott Carter '12 was credited with his team-high fifth assist.

The Continentals played a man down for the final 15-plus minutes of regulation and entire overtime after Jon Sanford '11 received his second yellow card of the afternoon. Despite the disadvantage, Hamilton had chances to win the game before Bosman's goal. Arroyave had a shot clang off the crossbar in the 83rd minute, and he missed an open net with 36 seconds left in the first overtime.

Clarkson was actually playing with just nine men when Bosman scored his goal. Matt Konecnik '12 received a red card in the 103rd minute, and Jeremy Toscano '11 was issued his second yellow of the game and sent off just 11 seconds later.

Eric Boole '13 made five saves for the Continentals, and Saverino Spagnolo '13 stopped five shots as well for the Golden Knights. Hamilton held a 20-15 shot advantage. Clarkson took the only corner kick of the entire game.

The Continentals have 10 wins and two ties against the Golden Knights in the last 12 meetings between the teams. Hamilton leads the all-time series, 27-20-6. The Continentals host St. Lawrence University for another league game on Sunday, Oct. 24. Clarkson travels to Hobart College in league play on Sunday as well.