Men's soccer rallies for tie against Hobart
---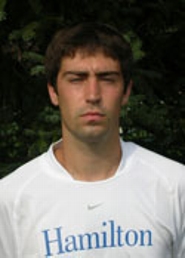 Frank Campagnano '12 scored a goal and assisted on the other as Hamilton College played to a 2-2 tie against Hobart College in a Liberty League game at Hamilton's Love Field on Oct. 30.

The Continentals (9-2-3 overall, 4-2-1 Liberty) are the No. 4 seed in the Liberty League tournament, and will play top seed and regular season champion St. Lawrence University in one semifinal on Wednesday, Nov. 3. The Saints shut out Hamilton 1-0 at Love Field on Oct. 24.

The Statesmen claimed a 1-0 lead in the 11th minute on a goal by Tommy Hayes, Shayan Mosavi was credited with the assist.

Hamilton tied the score in the 21st minute when Anthony Balbo '13 tallied his team-leading 10th goal. Campagnano earned his sixth assist, and Leo Nizzi '14 was credited with his eighth to set a school record for most in a season.

The Statesmen were awarded a penalty kick in the 69th minute that was saved by Eric Boole '13 to keep the score knotted at 1-1. In the 77th minute, Justin Dotzman scored his second goal of the season to give Hobart a 2-1 lead.

The Statesmen played a man down for the final 9:51 of regulation and both overtimes after Mosavi received his second yellow card of the afternoon, and was issued a red card.

Hamilton was awarded a penalty kick with 4:07 left in regulation, and Campagnano buried it in the back of the net for his ninth goal of the season. He leads the team with 24 points.

In overtime, Hamilton dominated with eight shots to Hobart's four. Overall, Hamilton held a 29-18 shot advantage. The Statesmen took 10 corner kicks to Hamilton's eight. Boole made seven saves for the Continentals, and Charlie Hale stopped nine shots for the Statesmen.