Men's soccer falls to St. Lawrence in league semifinal game
---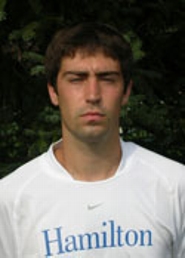 St. Lawrence University's Brian Gilloran scored his first goal of the season with 1:30 to play in the second sudden-victory overtime period to lift the Saints to a 3-2 come-from-behind victory over Hamilton College in a 2010 Liberty League tournament semifinal at St. Lawrence's Sandy MacAllaster Field on Nov. 3.

The nationally ranked No. 8 Saints (15-2-2 overall) entered the tournament as the top seed. St. Lawrence will host No. 3 seed Rensselaer in the league championship game on Saturday, Nov. 6, at 1 p.m. Rensselaer advanced past Union on penalty kicks after neither team scored in 110 minutes.

The game-winning play was initiated by St. Lawrence forward Adrian Bucksam. He worked the ball up the sideline, cut into the box, stepped around a defender and passed to Gilloran, who was cutting to the net. Gilloran shot the ball from point-blank range to win the game at the 108:30 mark.

No. 4 seed Hamilton (9-3-3) took the early lead as Jesse Arroyave '11 took advantage of a loose ball in the box and fired his second goal of the season past goalie Nate Goss-Woliner. The ball was sent into the box by Hamilton and a defender tried to chip it out of the air to make a clear, but the ball bounced straight to Arroyave for the goal.

St. Lawrence tied the score at the 22:42 mark as Dan Marvin sent a lead pass ahead to Sam DeMello and he scored his eighth of the year. Hamilton went back in front on a penalty kick by Frank Campagnano '12, his 10th goal of the year, at the 36:12 mark. Arroyave again had a hand in the play that put Hamilton in front. He broke past a defender and was headed for a one-on-one with Goss-Woliner when he was hauled down to create the penalty kick opportunity.

The Saints' Mike Manfredi sent a long pass ahead to forward Sean Scott that led to a breakaway to tie the score at the 54:54 mark. Scott took the pass in stride, went one-on-one with Eric Boole '13, and scored his sixth of the year. The Saints had two shots rattle off the post in the second half, and had a shot hit the crossbar at the horn that ended regulation.

The Saints outshot Hamilton just 7-6 in the first half, but finished with a 34-9 advantage, and had eight corner kicks to none for the Continentals. Eric Boole '13 made a season-high 12 saves while Goss-Woliner had three for the Saints, who ran their unbeaten streak to 15 games.

Hamilton must now wait until Monday, Nov. 8, to find out if they will receive an at-large bid to the 2010 NCAA tournament.