Men's soccer shuts down Oswego
---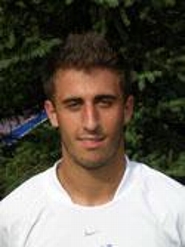 Anthony Balbo '13 scored his first goal of the season and added an assist to lead Hamilton College to a 2-0 non-conference win over SUNY Oswego at Hamilton's Love Field on Oct. 4.

The goal was the 11th of Balbo's Hamilton career. Balbo was also credited with the assist on a goal by Dillon Friday '12. Friday's goal was his second of the season and third of his Hamilton career. Eric Boole '13 and Fred Porges '14 combined to post a shutout for the Continentals, and Porges earned the first win of his Hamilton career.

Hamilton (3-4-1 overall) now leads the all-time series between the two programs 19-5-2, including 11-0-2 in the last 13 meetings. The Continentals have shut out Oswego five straight times. Oswego (5-5-1) is winless in its last five games.

After a scoreless first half, Hamilton got on the board early in the second with Balbo's goal. Frank Campagnano '12 sent a pass ahead to Balbo that drew Oswego goalkeeper Pat Breen '12 off his line to the top of the penalty area. Breen's clearance deflected off Balbo, who collected the loose ball, and slotted it into the net to give Hamilton a 1-0 lead.

The Continentals doubled their lead just over two minutes later when Balbo sent a cross from the right side of the penalty area that found Friday at the far post for a one-time volley into the Oswego net.

Hamilton finished with a 13-12 shot advantage, as well as a 6-4 advantage in corner kicks. Boole played the first 32 minutes, 10 seconds and stopped all three shots he faced. Porges played the final 57:50 and was credited with the first three saves of his Hamilton career. Breen finished with four saves for the Lakers.

The Continentals host Middlebury College for a NESCAC game on Saturday, Oct. 8, at 2:30 p.m. Oswego travels to SUNY Fredonia for a SUNYAC game on Friday, Oct. 7, at 4 p.m.