Men's soccer ties at Bowdoin
---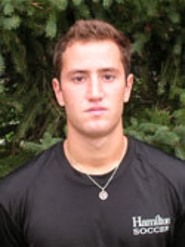 Eric Boole '13 posted his third shutout of the season as Hamilton College and Bowdoin College played to a 0-0 tie in a NESCAC game at Bowdoin's Pickard Field on Oct. 15.

This was the first meeting between the two programs. The last time Hamilton played to a scoreless tie was Sept. 14, 2010, when the Continentals traveled to SUNY Oswego.

Boole earned the 11th shutout of his Hamilton career. Will Wise '14 was credited with six saves for Bowdoin (4-4-3 overall, 1-4-2 NESCAC).

Each team was credited with 13 shots, and Hamilton held a 5-4 corner kick advantage. Hamilton's best opportunity to score came with just over five minutes remaining in the second sudden-victory overtime period. The Continentals had a 3-on-2 advantage and Griffin Abbott '15 sent a strong header towards the net that was saved by a sprawling Wise.

Hamilton (3-6-2, 1-5-2) travels to Colby College for another NESCAC game on Sunday, Oct. 16, at 1:30 p.m.