Men's soccer plays to second tie this weekend
---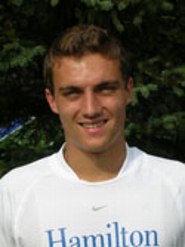 Colby College's Eric Barthold '12 scored the game-tying goal in the 87th minute, and the Mules and Hamilton College played to a 1-1 tie in a NESCAC game at Colby Soccer Field on Oct. 16.

Hennie Bosman '13 scored his second goal of the year, and Dan Kraynak '15 recorded his first point for Hamilton on an assist. Eric Boole '13 was credited with four saves. The Continentals went to double overtime for the third time in the past week.

Nick Nowak '13 and Andrew Meisel '13 were both credited with an assist on Barthold's goal. Ben Joslin '12 finished with seven saves for the Mules.

Hamilton (3-6-3 overall, 1-5-3 NESCAC) is in ninth place in the NESCAC with one conference game remaining. The Continentals are just one point behind Colby (6-5-1, 2-5-1). The top eight teams qualify for the NESCAC championship, which starts on Saturday, Oct. 29.

After a scoreless first half, Hamilton got on the board in the 77th minute when Bosman tallied the seventh goal of his career. Bosman received a pass from Kraynak and fired a shot that deflected off a post and into the net.

Barthold pulled the Mules even with 3:46 left in the second half on a header off a corner kick. Meisel played the corner kick, and Nowak's header found Barthold, who put the ball into the net.

The teams played two 10-minute sudden-victory overtime periods, but neither team was able to score and the game ended in a tie. Hamilton held an 18-11 shot advantage, and took five corner kicks to Colby's four.

Hamilton hosts Tufts University for the Continentals' 2011 NESCAC finale on Saturday, Oct. 22, at 2:30 p.m.