Men's soccer wins thriller against Tufts
---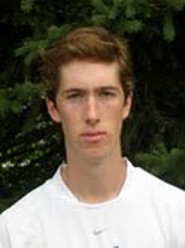 Griffin Abbott '15 scored two goals, including the game-winner 1 minute, 3 seconds into the second sudden-victory overtime period, and Hamilton College defeated Tufts University 2-1 in a NESCAC game at Hamilton's Love Field on Oct. 22.

Frank Campagnano '12 was credited with the assist on Abbott's game-winner. Hamilton goalkeeper Eric Boole '13 was credited with eight saves.

Gus Santos '15 scored for Tufts, and John Lewis '13 earned the assist. The Jumbos six-game unbeaten streak was their longest since 1999.

Hamilton (4-6-3 overall, 2-5-3 NESCAC) is in eighth place in the NESCAC with no conference games remaining. If Colby College does not beat Bates College next week, the Continentals will advance to the NESCAC championship quarterfinals.

Tufts (8-3-2, 4-3-2) is fifth with one game left. The top eight teams qualify for the NESCAC championship. The final NESCAC conference games will be played on Wednesday, Oct. 26.

Tufts got on the board first in the 27th minute when Santos netted his team-high seventh goal of the year. Lewis crossed the ball in from the right side and Santos buried a volley into the Hamilton net to give the Jumbos a 1-0 lead.

Hamilton had a good chance to equalize in the 55th minute when the Continentals were awarded a penalty kick after a Tufts foul in the penalty area. However, Jumbos goalkeeper Alan Bernstein '12 (five saves) saved Campagnano's initial shot, and Anthony Balbo '13 fired the rebound off the crossbar to keep Tufts ahead 1-0.

Abbott finally pulled Hamilton even in the 79th minute. After a long pass was deflected at the top of the Tufts penalty area, Abbott won a race to the loose ball and buried a shot into the net to make it 1-1.

The two teams played the rest of the second half scoreless. After both teams failed to score in the first overtime period, Hamilton went into double overtime for the fourth consecutive game.

Just over a minute into the second overtime, Bennett Weinerman '12 played a ball from the right side to Campagnano in the center of the field. Campagnano flicked the ball to Abbott, who cut back to his left and slotted a left-footed shot into the Tufts net. It was the third goal of the year for Abbott.

Tufts held a 19-14 shot advantage, and took eight corner kicks to Hamilton's two.

Hamilton hosts Utica College for a non-conference game on Tuesday, Oct. 25, at 4 p.m. Tufts travels to Bowdoin College for a NESCAC game on Wednesday, Oct. 26, at 2:30 p.m.