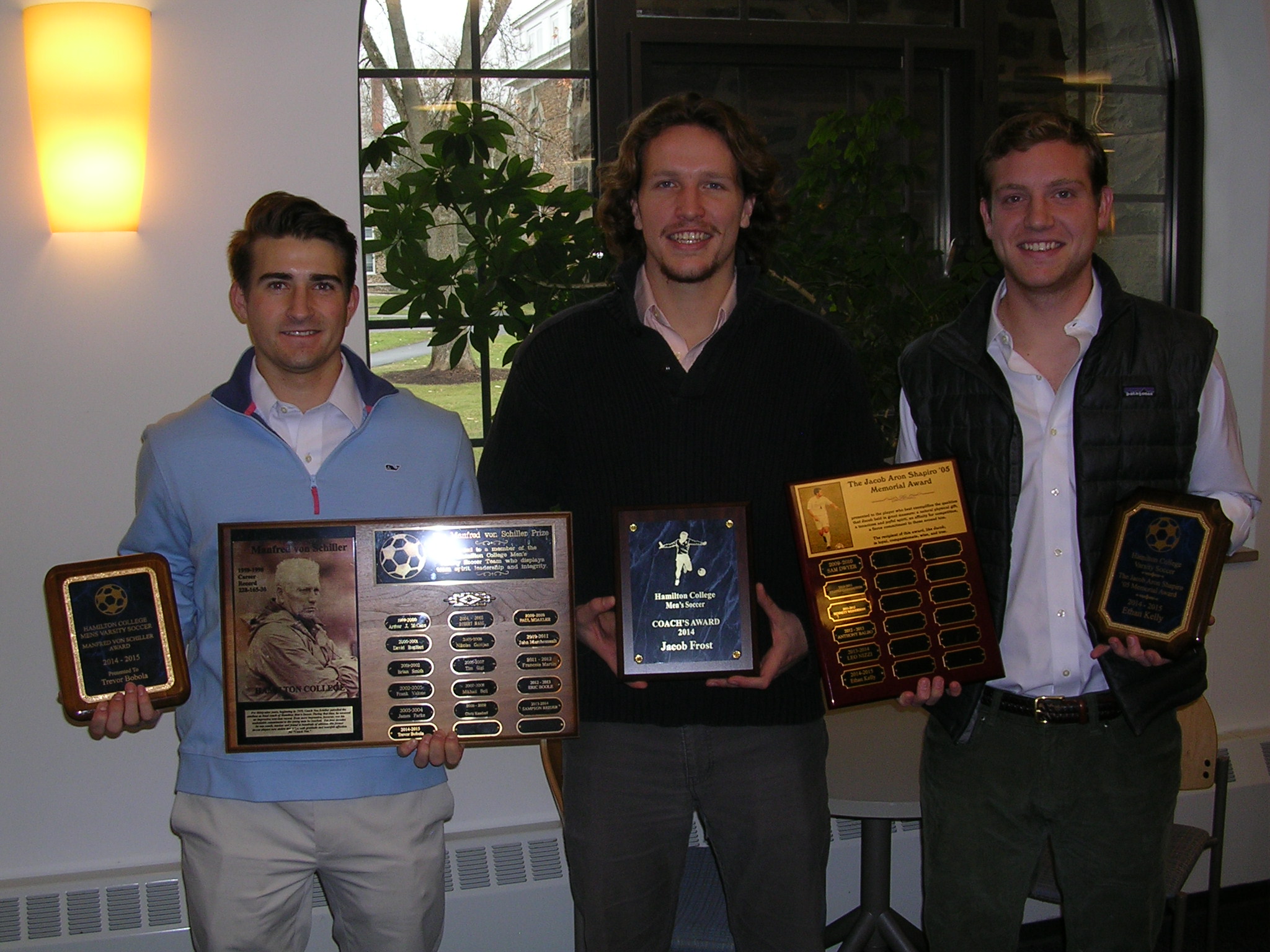 Three Hamilton College men's soccer players were honored as the program recently selected its 2014 team award winners.

Ethan Kelly '15 (Niskayuna, N.Y./Niskayuna HS) received the Jacob Aron Shapiro '05 Memorial Award, Trevor Bobola '15 (Jamestown, R.I./Episcopal HS [Va.]) was given the Manfred von Schiller Prize and Jacob Frost '15 (Patterson, N.Y./Trinity-Pawling School) was presented with the Coaches' Award.

The Jacob Aron Shapiro '05 Memorial Award is presented to the player who best exemplifies the qualities that Jacob held in great measure: a natural physical gift, a tenacious and joyful spirit, an affinity for competition and a fierce commitment to those around him. Kelly played in 50 career games and started 39 in four years in the back for the Continentals.

The von Schiller Prize is given in honor of Manfred von Schiller (the program's head coach from 1959 to 1998) to a player who displays team spirit, leadership and integrity. Bobola started 14 games in the back and made the 2014 NESCAC Fall All-Sportsmanship Team this year. He finished his Hamilton career with three goals and two assists in 42 games.

The Coaches' Award is given to the team's most valuable player. Frost was selected for the 2014 NESCAC All-Conference Team and earned a spot on the 2014 NESCAC Fall All-Academic Team. The midfielder started all 15 games and scored one goal this year. He played in 53 career games and started 40 for the Continentals.