Men's soccer breezes to victory at Utica
---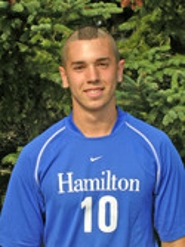 Jesse Arroyave '11 scored one goal and assisted on another to help lead visiting Hamilton College to a 3-0 non-league win against Utica College in Utica, N.Y., on Oct. 15.
Arroyave -- a Liberty League co-Offensive Performer of the Week selection on Monday -- has scored a goal in three straight games. He leads the Continentals (7-4 overall) with seven goals and 15 points.
Frank Campagnano '12 notched his third goal and Michael Hannan '09 recorded his first this year. Paul Moakler '10 and Max Akuamoah-Boateng '09 were credited with one assist apiece. Anthony Carello '09 started in goal and made six saves in 81 minutes. Will Preston '11 played the final nine minutes and stopped one shot in his first Hamilton appearance.
The Continentals grabbed a 1-0 lead in the 13th minute. Moakler sent a corner kick to the near post and the 6-foot-3 Hannan headed the ball into the back of the net. Hamilton led 1-0 at the half.
The lead grew to two goals in the 61st minute. Akuamoah-Boateng dribbled the ball nearly to the end line and right of the goal before lofting a pass to Arroyave in front of the net. Arroyave headed the ball past the keeper from almost point-blank range. Campagnano tallied the clinching goal from Arroyave less than four minutes later.
The Continentals are now 29-1 all-time against Utica (6-5-1). Hamilton posted its fourth shutout this year. The Continentals held an 18-10 advantage in shots and took six corner kicks to none for the Pioneers. Hamilton defeated Utica by the same 3-0 score at Love Field in 2007.
The Continentals are off until Saturday, Oct. 25, when they travel to Vassar College for a Liberty League game at 3 p.m.