Men's soccer explodes for five goals in rout
---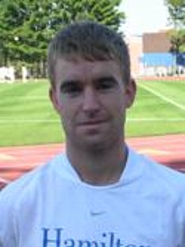 Jon Sanford '11 led visiting Hamilton College with two goals in a 5-1 win over SUNY Institute of Technology in a non-league game on Oct. 4.
Hamilton's five goals are the most allowed in a game this season by SUNYIT (7-5 overall). Hamilton (4-3-1) got on the scoreboard in the 21st minute, when Sanford scored his first goal off passes from Jesse Arroyave '11 and Sam Dwyer '11. A little over nine minutes later, Billy Ford '10 added to Hamilton's lead with his first collegiate goal.
Matthias Hunkeler '10 scored his first goal of the season in the 34th minute to give Hamilton a 3-0 lead. Sanford connected for his second goal of the game just 46 seconds into the second half. Arroyave was credited with his second assist.
The Continentals scored their fifth goal in the 75th minute, when Gary Bedrosian '11 collected a pass from Pat Houston '12, and fired a shot past the Wildcat goalkeeper for his first goal at Hamilton. SUNYIT prevented a shutout by scoring its only goal at the 85:58 mark.
Eric Boole '13 started for Hamilton and recorded four saves in his 72 minutes, 8 seconds of action. Liam Morgan '13 made his first appearance in goal, and made one save in his 17 minutes, 53 seconds of play.
Hamilton outshot SUNYIT, 17-11. The Wildcats held a slight advantage in corner kicks with seven, while the Continentals took five.
The Continentals return to action on Friday, Oct. 9, when they travel to Clarkson University for a league game at 4 p.m.