Men's soccer coach honored by SUNY Cortland
---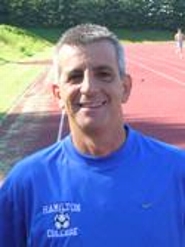 Hamilton College head men's soccer coach Perry Nizzi will be one of eight people inducted into the SUNY Cortland C-Club Hall of Fame during its 41st annual banquet and ceremonies on Saturday, Oct. 31.
Nizzi, who is from Rome, N.Y., and attended Rome Free Academy, graduated from Mohawk Valley Community College in 1975 and went on to star at Cortland for two years. The midfielder finished among Cortland's all-time leading scorers and was a two-time first team all-SUNYAC player. He was voted first team all-state and team captain as a senior.
After Nizzi earned his bachelor's degree in 1977, he helped establish and coach an undefeated women's soccer club team. He was a lecturer in the physical education department, coached the men's junior varsity soccer team and was an assistant on the varsity staff. He later received his master's degree from Cortland.
Established in 1969, the C-Club Hall of Fame recognizes alumni who competed as athletes at Cortland and have since distinguished themselves in their professions and within their communities. Honorary members are recognized for their long and significant contributions to SUNY Cortland athletics.
Nizzi went on to win 291 games and three National Junior College Athletic Association (NJCAA) Division III titles in 17 years as head coach at Herkimer County Community College. He joined the Hamilton coaching staff in 1998 and has led the men's soccer program to 106 victories and four NCAA Division III tournament appearances.
Nizzi is also a member of the NJCAA Soccer Hall of Fame (2006), the Greater Utica Sports Hall of Fame (2000) and the Rome Sports Hall of Fame (1997).