Men's soccer coasts by Cazenovia
---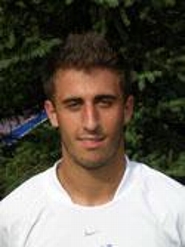 Anthony Balbo '13 scored two goals to lead Hamilton College to a 6-0 rout of Cazenovia College in a non-league men's soccer game at Hamilton's Love Field on Sept. 29.
Balbo's six goals are tied for the team lead with Frank Campagnano '12, who chipped in a goal and an assist. Campagnano leads the Continentals with 14 points. Leo Nizzi '14 was credited with two assists and now has a team-best six. Colin Hill '13 made two saves in relief of starting keeper Eric Boole '13, and the duo combined to post Hamilton's fourth shutout this year.
The Continentals (5-1-2 overall) led just 1-0 at the half, but dominated the action. Hamilton held a 14-0 advantage in shots and hit the crossbar twice in the first 45 minutes. Balbo finally put the Continentals on the scoreboard in the 21st minute off a feed from Nizzi.
Hamilton exploded for five more goals in the first 27 minutes of the second half. Nizzi was taken down in the penalty area, and Campagnano drilled the penalty kick into the top right corner of the net. Dillon Friday '12 scored his first goal for the Continentals on a corner kick that was taken by Nizzi in the 58th minute.
Balbo tallied his second goal of the day on a nice pass from Jon Sanford '11 in the 63rd minute. Jesse Arroyave '11 picked up an assist on the first collegiate goal by Andrew Scott '12 in the 70th minute. A little more than three minutes later, Daniel Hughes '12 redirected a pass by Hennie Bosman '13 into the back of the net for his first career goal.
Hamilton finished with a 24-7 shot advantage, and edged Cazenovia in corner kicks, 8-6. The last time the Continentals scored six or more goals in a game was on Oct. 6, 2006, when they defeated Clarkson University 6-0. The Wildcats fell to 1-6-1 this year.
Hamilton is off until Friday, Oct. 8, when the Continentals travel to Rensselaer for a Liberty League game. Cazenovia hosts Skidmore College on Saturday, Oct. 2.