Men's soccer defeats Utica
---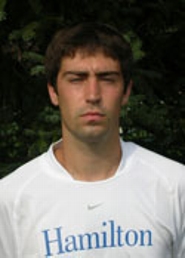 Frank Campagnano '12 and Jesse Arroyave '11 recorded one goal and one assist apiece to lead Hamilton College to a 4-2 victory over Utica College in a non-league game at Utica's Charles A. Gaetano Stadium on Oct. 13.

Anthony Balbo '13 scored at 10:03 on a pass from Campagnano to give the Continentals a 1-0 lead. Balbo and Campagnano are tied for the team lead with eight goals, and Campagnano has three assists. Shortly after Utica tied the score, one of the Pioneer players received a red card at 21:08, and Utica played a man down for the final 69 minutes.

It didn't take long for Hamilton to take advantage of its extra-man situation. Arroyave scored his first goal of the season from 15 yards out to put the Continentals up 2-1 in the 30th minute.

Campagnano scored on a wonderful shot from about 30 yards out off a pass from Pat Houston '12 to make it 3-1 in the 35th minute. Houston earned his first assist of the season. The Pioneers scored on a penalty kick 61 seconds later, and trailed the Continentals 3-2 at the half.

In the second half, Hennie Bosman '13 tallied his first goal of the season on a shot to the lower left corner of the goal after a lead pass from Arroyave in the 62nd minute. Bosman's goal accounted for the final margin. Eric Boole '13 had four saves for Hamilton. The Pioneers outshot Hamilton 13-11, and held a 6-2 advantage in corner kicks.

The Continentals' next game is against Liberty League foe Clarkson University at Hamilton's Love Field on Saturday, Oct. 23.