Men's soccer defeats Vassar on late goal
---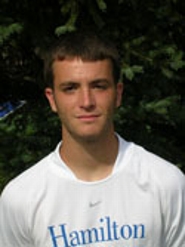 Leo Nizzi '14 scored the game-winning goal in the 87th minute to lead Hamilton College to a 2-1 victory over Vassar College in a Liberty League game at Gordon Field on Oct. 9.

Nizzi rebounded his own shot and put the game-winner past the reach of the Vassar goalkeeper for his first goal of the season. Hamilton (7-1-2 overall, 3-1-0 Liberty) won its fourth straight game.

The teams had nine shots apiece in the first half, but the Continentals fired 10 shots in the last 20 minutes of the second half to Vassar's two. The Continentals' strong defense held off each of Vassar's attacks, and kept the Brewers to just two shots on goal.

Hamilton scored its first goal just over three minutes into the first half. The Brewers (7-5-0, 1-3) were caught off guard when Nizzi took the second of two consecutive Hamilton corner kicks. Nizzi's cross found a wide open Frank Campagnano '12, who promptly headed it into the goal uncontested to give the Continentals the early lead.

Campagnano is tied for the team lead with seven goals. Nizzi's seven assists this year ties the program record for most in a season with Chris Olcott '87.

Vassar evened the score in the 15th minute when the Brewers scored on a penalty kick. While the Vassar offense lost steam in the second half with just five shots, Hamilton picked up the pace. Speedy forwards Jesse Arroyave '11 and Anthony Balbo '13 kept constant pressure on the Vassar defense with a combined 13 shots.

Ten minutes into the second half, Balbo was wide open for a header inside the box but his attempt went just wide. One minute later, Balbo received a bouncing ball six yards from the Vassar goal, but his shot sailed just over the crossbar. With less than 10 minutes left, Arroyave received a cross from Balbo and shot it with an outstretched slide, but the keeper gobbled it up just before it crossed the goal line. Eric Boole '13 had one save for the Continentals.

Hamilton travels to Utica College for a non-league game on Wednesday, Oct. 13 at 7 p.m.