Men's soccer dominates, but ties Cortland
---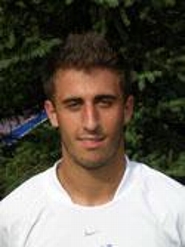 Anthony Balbo '13 scored a goal and Eric Boole '13 made one save as Hamilton College tied SUNY Cortland 1-1 in a non-league game at Hamilton's Love Field on Sept. 8.
The host Continentals (1-0-1 overall) held a commanding 30-11 advantage in shots and owned an 8-4 edge in corner kicks. Cortland (0-3-1), which had scored just one goal in its first three games, leads the all-time series 21-3-3.
The Red Dragons grabbed a 1-0 lead in the 14th minute on a corner kick. Evan Waggoner '11 sent the kick into the box where it was headed towards the goal by Steve Bartkowski '11. Ian Cusack '14 -- a 6-foot, 4-inch defender -- redirected the ball with his head past the goalkeeper for his first goal.
Hamilton had a golden chance to tie the score in the 34th minute when Jesse Arroyave '11 was dragged down in the penalty area and was awarded a penalty kick. However, Arroyave missed to the left of the goal and Cortland still led. The Continentals drew even in the 39th minute on the first career goal for Balbo. Frank Campagnano '12 was credited with the assist.
Hamilton had a number of chances to take the lead in the second half. Patrick Pidgeon (seven saves) stopped a shot by Pat Houston '12 from close range, but couldn't secure the ball. The rebound went to Jon Sanford '11, who banged the ball off the right post. Leo Nizzi '14 later hammered a shot off the crossbar. The Continentals took four shots to one for the Red Dragons in the overtime periods.
Hamilton hosts Ithaca College for another non-league game on Sept. 11.